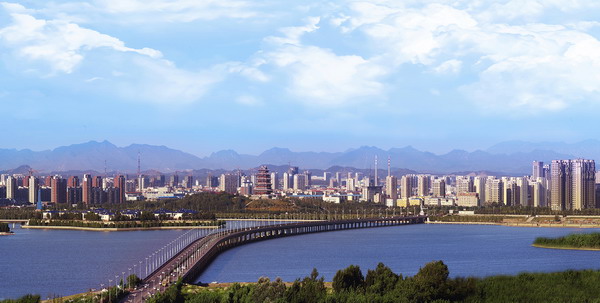 The new look of Qian'an, a prefecture-level city rebuilt after a 7.8 magnitude earthquake in 1976 in Tangshan, Hebei province. From 2000 to 2011,China's urban construction area increased 76.4 percent. Provided to China Daily 
City governments used urbanization as a pretense to portray farmers defending their land as opponents of a national strategy set by the central government.
Under the current law, only the government has the right to buy rural land from farmers at prices that it can set itself. If the law isn't revised, there won't be any change in the government's position as the largest stakeholder of rural land
To break the deadlock, the central government needs to give its local counterparts more legal channels with which to raise funds.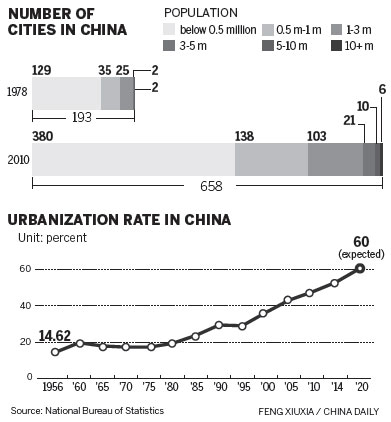 Apart from allowing local governments to issue bonds, an idea that's strongly supported by those governments, analysts believe the central government should encourage local governments to rely more on private capital to provide for new residences, under close judicial supervision.
The private sector not only contributes capital; it also generates much-needed jobs for the new urban residents.
According to Wei Jie, an economist at Tsinghua University, from 2004 to 2013, the private sector accounted for 63 percent of economic growth, 60 percent of tax revenue, 80 percent of the jobs created and most of the patented technology in China.
Already a pillar of the national economy, private enterprises deserve fairer tax, market and policy environments, compared with State-owned enterprises.
The demand for financing for urbanization is also far beyond governments' ability to raise funds.
According to the Ministry of Finance, it will require about 42 trillion yuan ($6.78 trillion) to raise China's urbanization rate to 60 percent by 2020.
A market-based approach, rather than an administrative one, can accelerate and ease the process of urbanization by allocating resources more effectively.
Only after all these concerns of local governments are fully addressed will those governments support farmers' land rights. And giving farmers ownership rights over land is a prerequisite for phasing in their rights to urban hukou. Under the government's urbanization plan, migrant workers with stable work and living conditions will win their urban residence permits first.