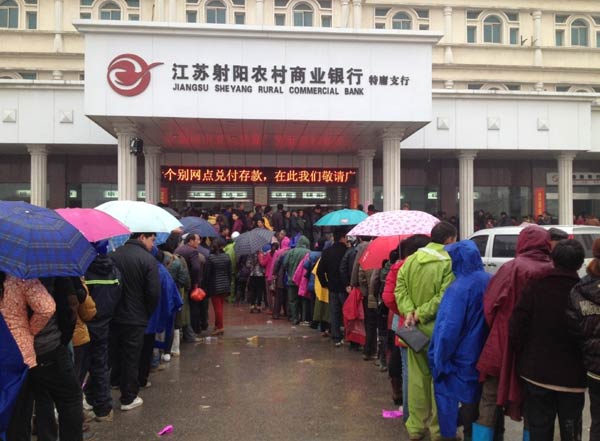 A recent run on a branch office of a local bank in Sheyang, Jiangsu province, reportedly on a rumor about the bank's financial state, while the bank branch was using its bulletin board assuring the customers that it still had an abundant cash reserve. JIANG ZHENJUN / FOR CHINA DAILY
Deep-rooted economic ills call for long, thorough treatment of patient
When doctors ask a patient to weigh a decision on treatment, it usually signals something really serious.
Now is the moment for China to tell anyone with a business interest in the country what course the nation means to pursue as it treats the economy's ills. Will it cure the disease or just alleviate the symptoms?
All signs suggest that China is opting for a thorough cure - meaning it will struggle through a long incremental process of reform without entirely sacrificing growth.
It's a highly risky process. Reform must be effective. Growth must be real. And most importantly, reform can't be allowed to stifle growth - and preserving growth can't be allowed to interfere with reform, resulting in the same old waste, pollution and corruption. Can China do it?
Officials admit that the economy has, over the years, developed many symptoms of ill health. It's leaned too heavily on its old development strategy - namely, a system where local governments keep selling off land rights to developers and using that revenue to keep expanding the local capacity to manufacture for the export market.
In the 1990s and early 2000s, the strategy worked brilliantly. But that strategy has run its course - in both selling off land for higher prices and building capacity to produce for higher demand.
With "ghost towns" scattered throughout the land and idle industrial capacity that doesn't generate any extra revenue (let alone profit) the economy has obviously reached the point where correction is necessary. That means slashing apartment prices in empty towns, shutting down unprofitable factories and shifting focus to the domestic market, especially diverse social programs that will serve China's own vast mass of people.