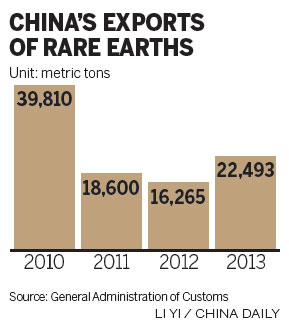 Meanwhile, China imposed duties only on the exports rather than domestic consumption of the minerals and did not reasonably explain the export duty standards or their impact on production.
The report also found the export quotas on the minerals were not related to natural resource protection. The measure was not introduced simultaneously with domestic limits on production or consumption and thus constituted "arbitrary or unjustifiable discrimination" and "a disguised restriction on international trade".
The report also rejected one of the EU's allegations regarding China's restrictions on trading rights of enterprises seeking to export molybdenum.
"The dispute has not come to an end. We are evaluating the panel report to decide whether to appeal to the WTO appellate body. If the final ruling upholds the panel report, we will remove the restrictions in the case, just as we did in the case of the nine raw materials," said Yang Guohua, deputy director-general of the department of treaty and law at the Ministry of Commerce.
According to the WTO rules, China can appeal to the appellate body within 60 days of the report's distribution.
In March 2012, the US, the EU and Japan requested consultations with China regarding its restrictions on the export of the minerals. A panel was convened in late September of 2012 to look into the dispute after talks failed to reach a resolution.
China is the world's largest producer of the 17 metals known collectively as "rare earths", which are used to manufacture a range of crucial technologies.
Sang Baichuan, director of the Institute of International Business at the University of International Business and Economics in Beijing, said that the result of the panel report was expected. But he said the impact on Chinese industries won't be too onerous.
Du Shuaibing, an analyst with Baichuan Information, said that the existing export quota system has been "invisible" in recent years since actual export volumes did not meet the quotas.
The export volume of light rare earths is likely to be increased due to their competitive prices if the country no longer puts a cap on their export, he said.