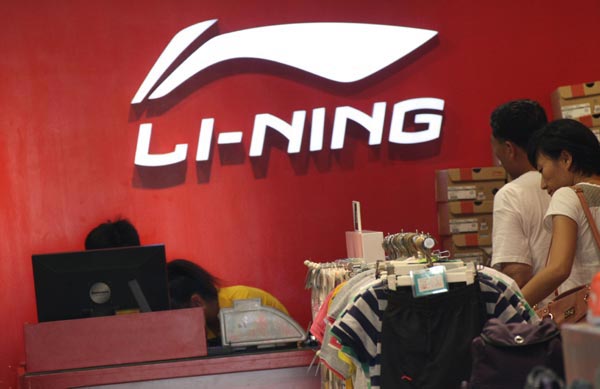 Customers make purchases at a Li Ning Co Ltd store in Xuchang, Henan province. The share of the company's subsidiaries in retail revenue grew from 21 percent in 2011 to 35 percent in 2013. Geng Guoqing / For China Daily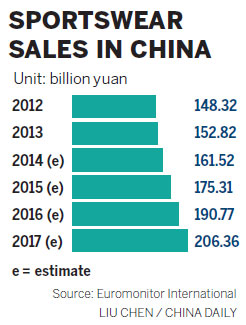 Sportswear company Li Ning Co Ltd saw improvements in its operations in 2013. But the company needs more time to report concrete results, its management team said.
The Chinese sportswear maker, named after the iconic gymnast who established the brand, reported a net loss of 392 million yuan ($63.7 million) for 2013 on Monday. That figure narrowed by 80 percent its 2012 loss, which totaled 1.979 billion yuan. Meanwhile, its gross profit rose slightly from 2012's 2.514 billion yuan to 2.594 billion yuan in 2013.
Li Ning's operating cash flow also "substantially improved to near break even", compared with 932 million yuan net operating cash outflow in 2012, said the athletic footwear maker's annual report, published on the Hong Kong stock exchange.
But the group saw a 12.8 percent decline in revenue for the year, from 6.676 billion yuan in 2012 to 5.824 billion yuan last year. That was because of "sell-in reductions, inventory clearance and optimization of store network", said the report.
"Our first-phase turnaround is nearly complete, with encouraging core trends, but a little more time is needed to resolve the last group of weaker channel partners and the final batch of old products," Li Ning, executive chairman of the company, told a media briefing.
Li added that it will take 18 to 24 months for the sportswear company to digest the problems as well as to shift its focus to building a network of more direct-retail and self-owned shops.
"Because the transformation is ongoing, our focus at this stage is on a healthy growth rate of the share of new products in the inventory," said Kim Jin-goon, executive vice-chairman and interim CEO.