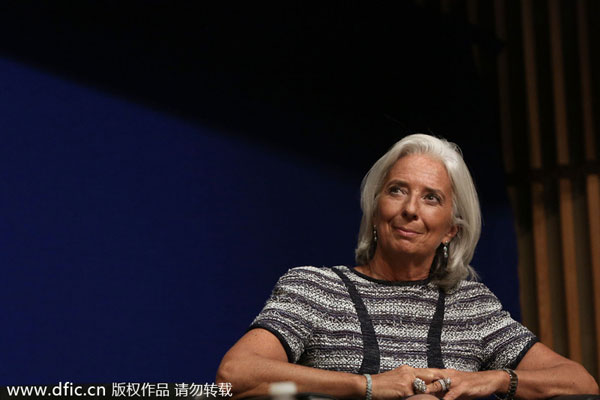 International Monetary Fund (IMF) Managing Director Christine Lagarde takes part to a joint IMF-Treasury seminar at the Economy Ministry, in Paris, France, Sept 10, 2013. [Photo/icpress]
WASHINGTON - China has been playing an increasingly important and active role at the International Monetary Fund (IMF), a trend that is welcomed and commensurate with its remarkable achievements and growing economic strength and influence, IMF Managing Director Christine Lagarde said Thursday.
"In the period to come, China's influence in the global economy and role in global economic governance will continue to rise," Lagarde told Xinhua in an exclusive interview before her departure to Beijing for a forum on China's development.
"This will reflect, in part, the transformation of its economy through reforms outlined in the third plenum that would help rebalance the economy, and achieve higher quality and more sustainable growth," she said.
"This will also have positive implications for the rest of the world, and we are very much looking forward to these developments unfolding," she added.
Lagarde said China, as one of the IMF's biggest shareholders, will also become its third largest member once the institution's governance reforms, adopted in 2010, become effective.
Talking about the Chinese economy, she said, to achieve the transformation pursued by the Chinese leadership will require steadfast and timely implementation of the blueprint for reforms announced at the Third Plenum of the 18th Central Committee of the Communist Party of China last year.
While implementation may be challenging, success will yield significant benefits for both China and the world economy, she said.
"In the near term, containing risks will require reining in rapid credit growth and local government off-budget borrowing. Such stimulus policies have provided welcome support to China and the world economy since the global financial crisis," said the IMF chief.