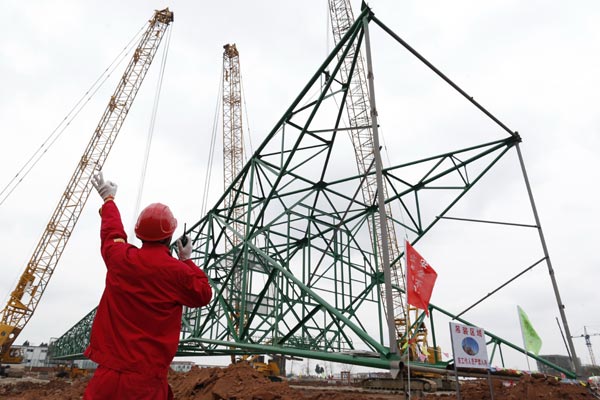 Assembling drilling platform on 4th March 2014. [Photo/chinadaily.com.cn]
China National Petroleum Corp, the country's largest oil and gas producer, will start drilling its most recently discovered natural gas reservoir in Sichuan on Friday afternoon, expecting to effectively ensure the country's energy supply in coming years.
The reservoir in the Longwangmiao formation of the Cambrian system, in the Moxi block of the Anyue gas field, is the major breakthrough made by the company in natural gas exploration.
Yang Yu, a geologist with a subsidiary of CNPC, said the discovery of the Longwangmiao reservoir proved China still has huge potential in conventional natural gas exploration as the technology the country owns helped the company make a breakthrough in deep-seated gas generation from shallow natural gas exploration.
CNPC's subsidiary PetroChina Southwest Oil and Gasfield Co has built a project with an annual output of 1 billion cubic meters in the block.
Li Luguang, general manager of the subsidiary, said the company will reach 11 billion cu m of natural gas annual production capacity by the end of 2015.
That will be equivalent to the annual natural gas imports from Myanmar and enough to supply Beijing for a year, according to Wang Xiaokun, an energy analyst at consultancy Sublime China Information.
China consumed 169 billion cu m of natural gas in 2013, according to the National Development and Reform Commission.
At present, the company is building a project with an annual production capacity of 4 billion cu m and has started the preliminary work of the phase II capacity project of 6 billion cu m .
"It is the biggest natural gas capacity building project in Sichuan Basin, one of China's richest natural gas producing regions," he said.
At present, gas production tests at the Moxi block have cumulatively yielded 893 million cu m.
"When the project is completed, it will contribute to accelerating the ecologic and economic development of the region and reduce air pollution," Li said.