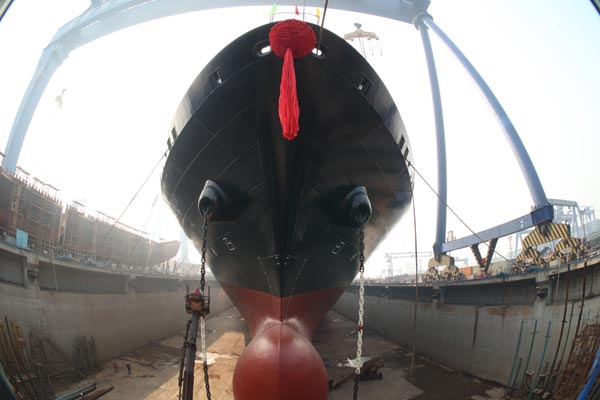 A container ship readies to leave the Jinling Shipyard in Nanjing, Jiangsu province. China has 1,600 shipbuilding-related enterprises, many with excess capacity. The government plans to rationalize the industry. Provided to China Daily
China signaled that it will cut its vast shipyard army to get industrial growth back on a healthy track this year, as its earning ability falters amid cheap vessel prices, blind expansion and speculation in the shipbuilding sector.
China will drastically curb the number of shipyards, docks, berths and maintenance facilities it opens, said Li Dong, deputy director-general at the department of equipment industry at the Ministry of Industry and Information Technology.
"Blind investment activities in the shipbuilding sector must be restrained, especially in the regions of the Bohai Bay, Pearl River Delta and Yangtze River Delta," Li said.
Meanwhile, he said, "capable shipyards will be supplied with technical and financial assistance to develop high-end ships and offshore engineering products to catch up with rivals such as South Korea and Singapore".
As China's policy banks, such as China Development Bank and the Export-Import Bank of China, become more cautious in approving refund guarantees-in particular, small and medium-sized shipyards-Li warned that unqualified shipyards should not even think about producing offshore engineering products such as oil rigs and offshore pipe-laying vessels for foreign ship owners.
"Small and medium-sized shipyards without orders or with a few orders will gradually withdraw from the market over the next five years," Li said.