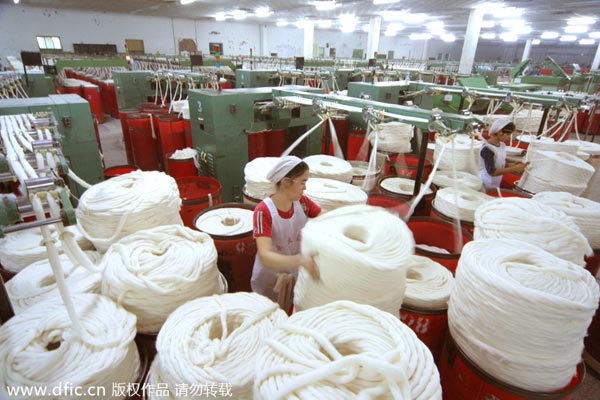 Female Chinese factory workers prepare yarn at at a textile plant in Tuokexun county, northwest Chinas Xinjiang Uygur autonomous region. [File photo/dfic.cn] 
Plan to develop the industry also aims to focus on stability in region
The Xinjiang Uygur autonomous region plans to develop the textile industry vigorously this year to create more jobs and help maintain stability, according to local officials.
A plan has been drafted to expand the industry to raise
employment
capacity to 1 million people by 2020 from the current 200,000. More than 52 percent of China's commercial cotton is
harvest
ed in Xinjiang.
"Textiles is a labor-intensive industry with a long production chain. The best option is to create a large number of jobs in southern Xinjiang," said Liang Yong, deputy director of the region's Commission of Economy and Informatization.
A top leader has also said that developing labor-intensive industry should be given prominence because it could help to solve the employment situation in southern Xinjiang.
There is also the need to maintain social stability in Xinjiang, said Yu Zhengsheng, China's top political adviser.
He made the comments last week while attending a group discussion for the Xinjiang delegation during the top legislature's annual session.
Aniwar Imin, director of the Xinjiang Department of Human Resources and Social Security, said that boosting employment has been a priority in southern Xinjiang.
"Xinjiang should promote labor-intensive industries and encourage people to change their views about employment. Securing jobs could help to narrow the income gap and eliminate unstable factors in society," he said.
He added that the central government could also create more opportunities outside the region for people from different ethnic groups.