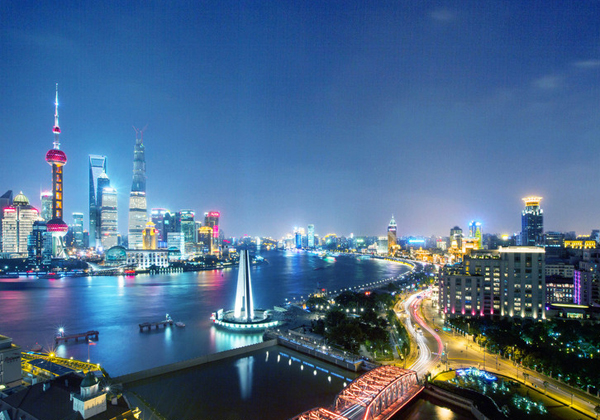 Night view of the Waibaidu Bridge, front, over the Suzhou Creek and the Bund in Puxi, Huangpu River and the Lujiazui Financial District with the Oriental Pearl TV Tower, the Shanghai World Financial Center, the Shanghai Tower under construction and other skyscrapers and high-rise buildings in Pudong, Shanghai, China, 4 October 2013. [Photo/dfic.cn] 
BEIJING - China on Sunday unveiled an urbanization plan for the 2014-2020 period in an effort to steer the country's urbanization onto a human-centered and environmentally friendly path.
Urbanization is the road that China must take in its modernization drive, and it serves as a strong engine for sustainable and healthy economic growth, according to the plan released by the Central Committee of the Communist Party of China (CPC) and the State Council, the country's cabinet.
"Domestic demand is the fundamental impetus for China's development, and the greatest potential for expanding domestic demand lies in urbanization," according to the National New-type Urbanization Plan (2014-2020).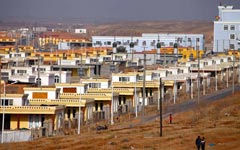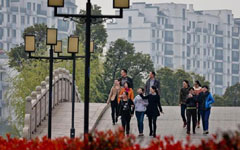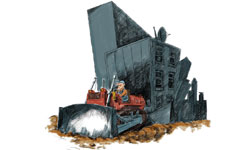 At present, the proportion of permanent urban residents to China's total population stands at 53.7 percent, lower than developed nations' average of 80 percent, and 60 percent for developing countries with similar per capita income levels as China.
Registered urban population, or those who hold a "hukou" under China's household registration system, accounted for only 35.7 percent in total population by the end of last year, data from the National Bureau of Statistics (NBS) showed.
An increasing urbanization ratio will help raise the income of rural residents through employment in cities and unleash the consumption potential, according to the plan.
It will also bring about large demands for investment in urban infrastructure, public service facilities and housing construction, thus providing continuous impetus for economic development, the plan said.
The number of rural migrant workers increased 2.4 percent to 268.94 million by the end of last year, accounting for 19.76 percent of the country's total population, NBS data showed.
Currently, they do not have access to the same public services as other urbanites with a city "hukou".
One of the basic principles for pushing forward urbanization before 2020 is putting people at the center and making sure that all people can enjoy the country's modernization achievements, the plan said.
The country should guide the reasonable flow of population, help rural residents become urban citizens in an orderly manner and make basic urban public services available to all permanent urban residents, it said.