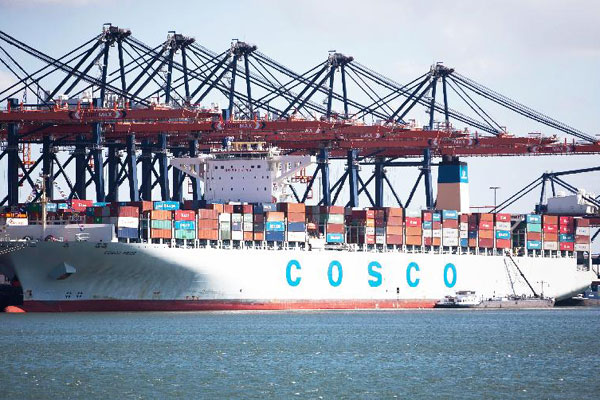 The freighter Pride berths at port of Rotterdam, the Netherlands, April 20, 2013. [Photo/Xinhua]  
As world shipping industry lies in choppy waters, the Chinese company is finding new market growth points, Zhong Nan reports
For Cosco Shipping, the world's largest fleet of specialized carriers and multipurpose vessels, which is owned by China Ocean Shipping (Group) Co, a new leg in its pan-African journey has begun.
With tons of cement shipped to Lagos, Nigeria, hydropower equipment delivered to the port of Luanda in Angola and construction machinery bound for Addis Ababa through the port of Djibouti, the Chinese company's footprint has expanded to more than 33 African countries this year. Han Guomin, Cosco Shipping's general manager, said the continent's hunger for trade opportunities, infrastructure improvement, appliances and electronics has pushed eager manufacturers from the United States, Europe and China to load their products onto vessels for Africa.
The driving force behind this is Africa's rising economy, which is fueled by an abundance of natural resources and commodity products, and its growing need for infrastructure improvement, energy, communications, manufacturing and agricultural development.
Cosco Shipping's entry into the African market began in the 1960s, when it transported engineering equipment, materials and workers to build the Tanzania-Zambia Railway.
With more than 100 ships, including asphalt tankers, lumber carriers and heavy lift vessels in operation, Cosco Shipping has been helping Chinese companies to do business in Africa for more than four decades. The company expects its 2013 profit to reach 31 million yuan ($5 million); it will release its financial report by the end of this month.
So far, it has deployed 25 vessels between China and Africa, with six ships operated on this route each month. It also serves clients in South Korea and Japan, helping them deliver their goods to the African market.
To improve local service, the company works with various representatives employed by its mother company, Cosco Group to take care of its local business such as sales, customs clearance and business promotion.
With foreign and domestic investment in Africa's infrastructure development, such as roads and the expansion of towns, growing over the past few years, Beijing-based China Chamber of International Commerce in January predicted favorable conditions to boost shipping in this developing but dynamic market into the next decade.