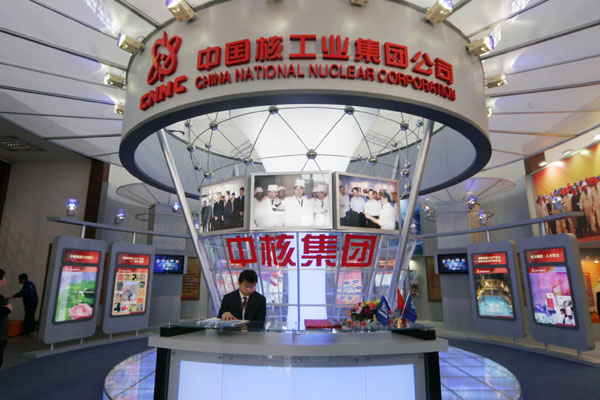 State-owned China National Nuclear Corp is preparing for an initial public offering in Shanghai as it accelerates its overseas expansion. [Photo by Wu Changqing / Asianewsphoto]
Another State-owned nuclear company is to list in Hong Kong
State-owned China National Nuclear Corp is preparing for an initial public offering in Shanghai as it accelerates its overseas expansion.
CNNC will list its "premium assets" initially, perhaps listing other assets later, Chairman Sun Qin said on Friday.
Another State-owned nuclear giant, China General Nuclear Power Group, is planning an IPO in Hong Kong.
Their listing plans underscore how intense the race for overseas expansion has become, with the central government encour
aging
domestic companies to export technology and equipment.
On Wednesday, Premier Li Keqiang said in the Government Work Report that the government will promote the export of nuclear technology and equipment.
CGN's IPO would raise $2 billion in the second half of this year, IFR, a Thomson Reuters publication, reported previously, citing sources familiar with the deal.
As for the CNNC deal, Sun said: "As the first step, the nuclear technology-related part will seek an IPO.
"Whether they (other parts of the company) will be injected into the initial listed company or become new listed companies is still under consideration." He said he hopes to see the IPO take place within this year.
To facilitate exports, CNNC and CGN have adopted common third-generation nuclear technology. That development occurred under the instructions of the government, ending a longstanding dispute over the issue.
The new unified technology is known as Hualong I (first dragon), which includes a type of reactor core that's at the center of CNNC's proprietary technology, according to Sun.
Hualong I includes some other supporting parts developed either by CNNC or CGN.