- China's budgetary stance for 2014 is neutral; it forecasts a 2.1 percent deficit
- SOEs are still not contributing much to the finance ministry's budget, but the situation is gradually improving
- The Ministry of Finance is overhauling budget planning, improving transparency, cutting waste and assessing spending
China's Finance Minister Lou Jiwei makes his first report to the National People's Congress (NPC) on March 6, 2014. He has a busy year ahead. In this report, we outline his official to-do list.
1. The revenue boom is over; Minister Lou has to make limited funds go further. The Ministry of Finance's (MOF's) budget revenue grew only 10.1 percent in 2013, the worst year in more than a decade (Figure 1). Income got so tight early in the year that the MOF had to unexpectedly slow some spending, including spending on transfers to local governments. And the MOF is looking for eight percent revenue growth in 2014 (we assume it is still conservative in its forecasting methods, so this is likely a floor). Tough year.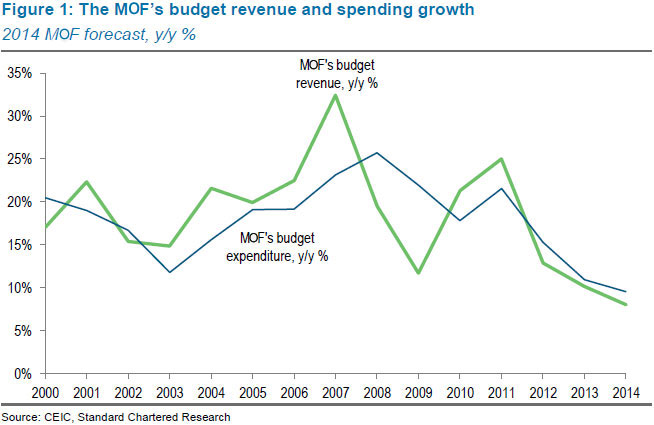 2. The MOF, wisely, wants to change revenue targets into forecasts. A glaring problem in recent years has been that the revenue number outlined in the official budget has quickly become a target rather than a forecast. This generates an irrational pro-cyclical bias in tax collection. When the economy is weak, local tax officials have had to squeeze local businesses for money to achieve their targets. This just makes life harder for firms already under pressure. Minister Lou outlined the 2014 budget and emphasized that the seven percent (central) and nine percent (local) revenue figures are forecasts, not hard targets. New methods of assessing the performance of tax collectors will therefore need to be found.
3. The MOF's budget stance is neutral, despite its claim that it will have some "stimulative effect". The MOF uses the phrase "proactive fiscal stance" to mean that more spending is going into priority areas such as health care and education. However, macroeconomists judge the overall effect of a budget on the basis of the change in the budget balance (adjusted for the cycle). The fact that the budget deficit is forecast to rise marginally from 2.0 percent of GDP to 2.1 percent GDP means that the fiscal stance is neutral. We show the budget balance in Figure 2.