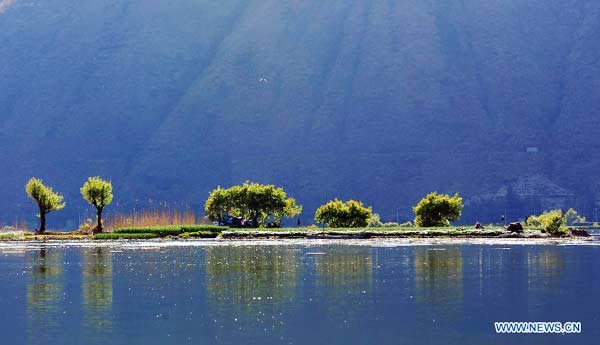 Photo taken on Feb 19, 2014 shows the scenery of the West Lake of the Eryuan county, Dali city, southwest China's Yunnan province. [Photo/Xinhua] 
Yunnan, a favorite tourist destination thanks to its abundant natural resources, has not seen a significant drop in vis
ito
rs since Saturday, when a terrorist attack frightened the capital city of Kunming and the entire country.
Ctrip.com, China's largest online travel agency, said that its Yunnan branch has started an emergency mechanism so that tourist guides, drivers and local guides in every city in the province will be on call round-the-clock to work closely with the company's headquarters.
The safety of the company's tourists is closely watched, and no package-tour customers were affected by the attack, the company said. Local hotels and scenic spots have restored order under stricter police surveillance, the company said.
So far, Ctrip has received no requests to cancel trips to Yunnan. It also promised to provide full refunds to anyone who wants to cancel a Yunnan trip.
Qunar.com, another leading online Chinese travel agency, had some hotel reservations canceled after Saturday's attack. All money will be refunded to customers who would like to cancel their hotel reservations, and Qunar will absorb all losses.
The company said the number of tourists heading to Yunnan in the first two months of this year was up slightly year-on-year. Qunar said that it has seen no significant change in the number of tourists.
Zhou Yingfeng, product manager of China Youth Travel Service Shanghai, also has not noticed a sharp drop in the number of tourists heading to Yunnan. But he expected that the number might drop by 20 percent in the short term.
The company had no customers in Kunming when the attack occurred, and no trips to Yunnan were reported.