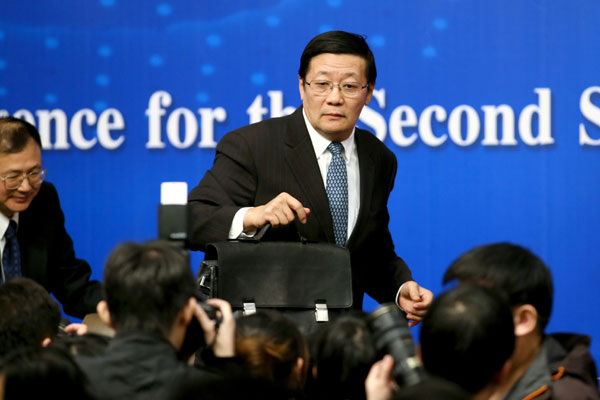 Finance Minister Lou Jiwei leaves the podium after a news conference on the sidelines of the annual session of the National People's Congress in Beijing on Thursday. Wang Jing / China Daily 
China will bring more legitimacy and fairness to its taxation system in a bid to ensure the nation's economic health, Finance Minister Lou Jiwei said on Thursday.
Expanding pilot reform to replace the business tax with a value-added tax, in order to avoid duplicate taxation and to encourage industrial upgrading, will remain a major task this year, Lou told reporters on the sidelines of the annual session of the National People's Congress in Beijing.
The trial, which started with transport and the service sectors, grew to include railway, post and telecom services in January, according to the Government Work Report delivered by Premier Li Keqiang on Wednesday.
Legislation for an environmental tax and property tax also is on the agenda, Lou said, while revealing that authorities also are considering modifying the resources tax and consumption tax.
Apart from highlighting the need for legislative approval of any new modifications to the tax system, Lou said tax regulations will gradually be converted into new laws.
Only three of the current 18 tax items in China were passed by legislation, while the rest are regulations set by the State Council, China's Cabinet, which was granted that authority by the National People's Congress in 1985.
"This has caused irregularities in our taxation system, such as unapproved tax incentives offered by local governments," Lou said.
He said the central government will step up efforts to remove these tax incentives. "We must ensure that resources are allocated according to the market, not preferential policies," he said.
Bai Chongen, deputy director of the Economic Management School at Tsinghua University, said although tax legislation will be a lengthy process compared with State Council regulations, it also is inevitable.
"There is no shortcut on the road to reform," he said.