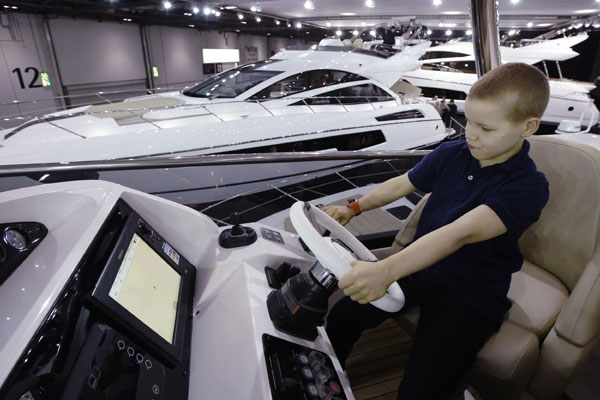 A young visitor tests out the new Sunseeker Yacht 75 at the London Boat Show at the ExCeL centre. Dalian Wanda Group Co Ltd bought a 92 percent share of Sunseeker International for 320 million pounds ($5 billion). Luke Macgregor / Reuters 
China's privately owned companies are following their State-owned and sovereign wealth fund counterparts in overseas direct investment in Europe.
"Chinese private firms almost doubled their investments in Europe from $964 million to $2 billion in 2013," says Andre Loesekrug-Pietri, chairman of the Hong Kong private equity firm A Capital.
A study by A Capital is a comprehensive investigation into Chinese investment. Its Dragon Index has become the reference indicator for Chinese investments worldwide and a key index for the globalization of the Chinese economy.
While private firms are so active, Chinese mergers and acquisitions in Europe fell 36 percent to $6.5 billion last year, A Capital says.
"This drop can be largely attributed to State-owned enterprises who reduced their investments from $11 billion in 2012 to $4.4 billion in 2013," Loesekrug-Pietri says.
Analysts say that early ODI was led mainly by SOEs but now more and more private firms are spearheading the investment drive.
A report published by the global consultancy firm PricewaterhouseCoopers last March also found that more and more Chinese private equity firms were shifting their focus onto overseas mergers and acquisitions as opportunities to invest in China's capital market diminished.
"Although it is still early days, this shift has a big influence on deal-making between Chinese and European companies in the years ahead," the report said. "It may make the mergers and acquisitions arena even more competitive and also bring more investment opportunities to those watching out for them."
Zhou Xiaoming, minister counselor of the Chinese embassy in London, says many private Chinese companies have invested in high-end manufacturing, infrastructure, property, research and development center areas in Britain.
"Chinese investment in the UK over the past two years reached $13 billion, exceeding the total of the previous three decades," says Zhou, adding that private firms play an important role.
Among them, Dalian Wanda Group Corp Ltd, one of China's largest and most ambitious companies, plans to invest up to 3 billion pounds ($5 billion) in regeneration projects in Britain.
Don't miss: