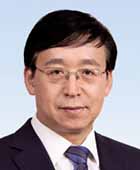 Li Keping, vice chairman and president of China Investment Gorp.
BEIJING
- China's sovereign wealth fund, China Investment Gorp (CIC), announced on Friday that it had officially appointed Li Keping as the fund's vice chairman and president.
Born in 1956, Li replaces Gao Xiqing, who turns 61 this year. China's official retirement age is 60 for men.
Li also serves as CIC's chief investment officer, a post he has filled since 2011, according to the company's official website.
The economics graduate from China's prestigious Peking University was previously an official with the State Council, and deputy chairman of the National Council for Social Security Fund, China's largest such fund.
Created in 2007 with a registered capital of $200 billion, CIC is tasked with making better use of China's large foreign exchange reserves.