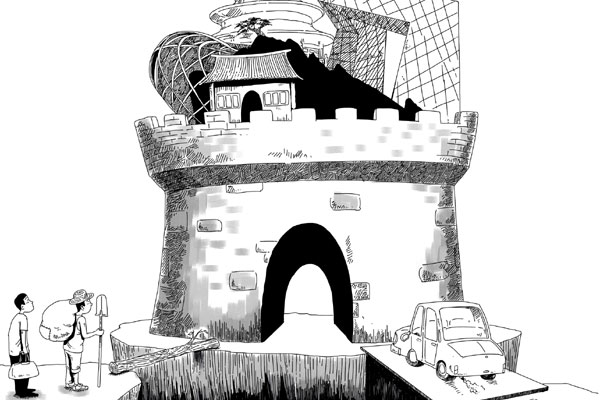 LI FENG/CHINA DAILY 
Echoing the recent plan of Beijing to control its rapidly growing population, officials in the capital's Chaoyang district have said they will cease the mass building of subsidized houses and launch crackdowns on group renting and the renting of underground spaces, so as to "cut the inflow of people".
That's a very nasty idea.
To effectively control the size of Beijing's population, one must first answer the question: Why are so many people rushing in?
There are two kinds of people who come to Beijing to live. First, there are those with a lot of money, who come to the capital to enjoy the capital's better services. The Beijing authorities welcome them because they offer both investment and consumption. Second, there are those without a lot of money who come to the city seeking relatively higher incomes - typically migrant workers and ordinary college graduates.
When they say they want to control the inflow of people, the authorities are not talking about the first group of people, they are talking about the second.
While it is the quality of the public services in the central districts of the city that appeal to the first group - latest information shows that Beijing owns six of the top 20 middle and high schools nationwide, as well as 51 class-A hospitals, or 24 percent of all those in North China. Such resources that have the support of State investment can hardly be found anywhere else in the country, which is why so many rich people move to Beijing.
Even though the municipal authorities have introduced some policies to control the inflow of people, it is predictable that the quality of Beijing's services and their appeal to the well-to-do will not fade a bit.
For the second group, who pursue better jobs and higher incomes, the attraction of Beijing lies mainly in the greater opportunities it offers. The job opportunities they seek are primarily in industries such as construction and the service sector. As long as the city and its population continue to grow in size, people will continue to be attracted to the capital.