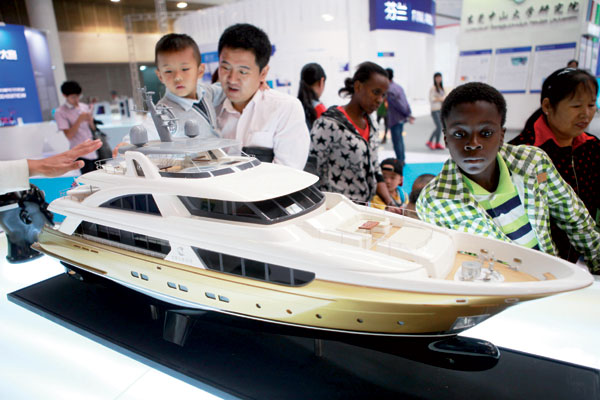 A cruise model displayed at the Dongguan Science and Technology Week in November. Fang Guangming / For China Daily 
Manufacturers in the trade city are finding they have to change way they do things
Years of effort in upgrading business, especially building a relationship with overseas companies in working together on innovation and technology, has greatly helped at least one company better tap the international market amid the lower global demand for Chinese energy equipment.
"Only by improving products and continuing to innovate can traditional manufacturers avoid losses caused by low global demand and the stronger yuan," says Shen Jianshan, president of Camda New Energy Equipment Co.
The company, in the traditional manufacturing and trade city of Dongguan in the heart of the Pearl River Delta, started upgrading its business in 2005.
It has gone from just manufacturing diesel-powered generation equipment to making alternative-fuel products, after buying high-level foreign technology, Shen says.
"Over the past few years we have spent about 100 million yuan ($16.5 million) on improving products. Now they easily meet the requirements of overseas buyers who require products with high-tech value."
Lower global demand for Chinese products, hobbled by rising domestic production and labor costs and the rising value of the yuan, has piled pressure on many Chinese exporters in the past few years.
A recent report issued by the Shenzhen Onetouch Business Service Co, an online foreign-trade outsourcing services provider, said the trade value of 2,000 small and medium-sized companies surveyed in the traditional manufacturing Pearl River Delta rose only 1.74 percent last year compared with 2012.
In contrast to the lower increase in trade for some small and medium-sized exporters, Camda New Energy Equipment Co's trade is expected to have been worth at least 120 million yuan last year, 20 percent higher than in 2012, covering more than 50 countries and regions, Shen says.
"We have clinched overseas orders valued at 260 million yuan for this year," Shen says.
The company has opened 12 sales agencies in traditional overseas markets including Britain and Germany and booming Southeast Asia, he says.
"We are very confident about growth because there is strong growing demand overseas for energy-efficient and eco-friendly products, especially in the emerging markets," Shen says.