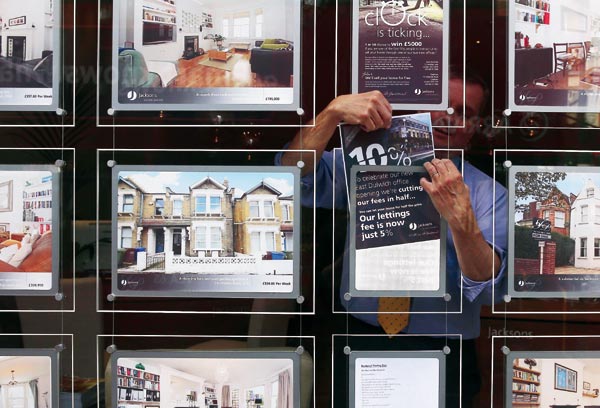 A Jacksons Estate Agent employee hangs a promotional sign in Dulwich, London. [Photo / Provided to China Daily]
Wang Shiyu, a doctoral student in London, says he barely needs to speak any English when he meets landlords as he looks for a flat in the city.
"I have been looking on the Southbank for two weeks and hardly speak any English because many of the landlords are from China. Some are even from my hometown, Wenzhou," Wang says.
About 35 percent of buyers of newly developed real estate in Britain come from East and South Asia and Eastern Europe/Russia. Investors from Zhejiang province in China are the biggest group, says the international property consultant Knight Frank. Analysts say veteran real estate investors who favor apartments are shifting their interest to overseas markets, London being a primary focus thanks to the potential for the growth in property prices there.
Lu Xiang, 56, an investor from Ningbo, says that in key cities in China such as Beijing and Shanghai, government policies that curb property purchases are holding back investors like him from buying apartments. He does not want to put the money in lower-tier cities.
"Investing in London's residential market is another investment channel for me. Rental returns are good and, because rental demand is high, you don't need to worry that the value of property may slump as happens in newer cities that boom for a while before becoming ghost towns."
London is becoming popular for property investment because yields compare favorably with those in China's domestic market, analysts say.
Real estate agency Jones Lang LaSalle Inc says the average property prices in the United Kingdom have risen 177 percent in the past 15 years, while in London prices have risen 276 percent.
Yu Hongxia, a financier from Hangzhou, is one Zhejiang investor who has been looking for investment opportunities in apartments.
"I have been looking for apartments since September. My daughter is going to graduate from a UK college in 2015. Owning an apartment may help her settle in the country."
Even if parents do not need apartments to house their children, the steady and consistent capital growth may be appealing. Buying real estate as an investment has been profitable for investors in Zhejiang over the past year.
The number of applications for prime rental accommodation in London rose 10 percent last year compared with 2012, says the property services company DTZ.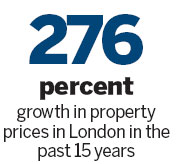 Jones Lang LaSalle says the value of transactions for London residential properties sold to Asia-Pacific buyers has totaled more than 10 billion pounds ($16 billion) since 2005. About 85 percent of Asian buyers choose to rent out their properties after buying, Jones Lang LaSalle says.
London residential property offers great potential in capital growth because of a shortage of new homes. Demand for high-quality rental accommodation remains strong. Research by London residential agents broadly aligns in pointing to price growth between 2013 and 2017, the average forecast being 29.3 percent, DTZ says.
Currency movements have helped boost overseas interest - the renminbi having increased greatly compared with the pound over the past seven years.
But Alan Chiang, senior director and head of residential with DTZ China, says there is more to it than that.
"The appeal includes a transparent tax system, no capital gains tax for foreign homeowners, exceptional quality of education in England, packages of well-equipped and fully fitted furnished apartments, a convenient time zone, overall stability, a liquid and transparent property market, strong capital value growth potential and strong rental demand with a reasonable yield."
London real estate is a first-class asset because of its long established position as a financial center, low tax regime for international buyers and stable political, economic and legal systems, Chiang says.