The average annual rise in China's petroleum use will drop to 2.5 percent during the years 2013 to 2020 as the government tries to slow down economic growth and reduce carbon emissions, said experts.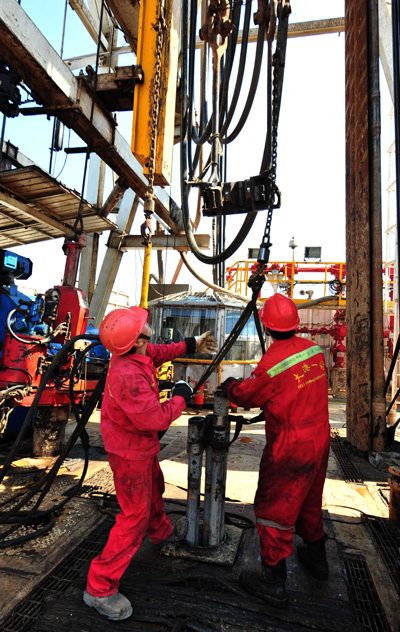 Workers man an oil drill at the Dagang oilfield in Tianjin. A study has found that China will consume 590 million metric tons of petroleum in 2020 and about 690 million tons by 2030. LIU HAIFENG / XINHUA
The figure will keep declining to 1.5 percent from the year 2020 to 2030, predicted Dai Jiaquan, deputy director of the Oil Market Research Office with the CNPC Economics and Technology Research Institute, on Thursday.
"Because of the energy-saving and environmental protection policies, as well as technological development of substitutes for vehicle fuel, there will be a tendency for the consumption growth for petroleum to slow down," said Li Li, research director at ICIS C1 Energy, a Shanghai-based energy information consultancy.
China will use 590 million metric tons of petroleum in 2020 with a smaller growth rate. By the year 2030, the country's petroleum use will be about 690 million tons, according to estimates of the CNPC institute.
China used 490 million tons of petroleum in 2012, a 4.7 percent increase year-on-year.
Meanwhile, China's natural gas use last year reached 144.5 billion cubic meters, up 12.8 percent year-on-year — much higher than the growth in petroleum use.
During the 11th Five-Year-Plan (2006-10), China's annual use growth of petroleum was as high as 7.7 percent on average.
China Petroleum and Chemical Industry Federation estimated in a previous report that China's petroleum annual growth in use will be lower than 5 percent on average during the years 2011 to 2015.
"As China further improves its economic structure, the energy consumption for unit GDP will continue to be reduced, which leads to slower petroleum consumption growth," said the report.