China's June manufacturing PMI falls to 50.1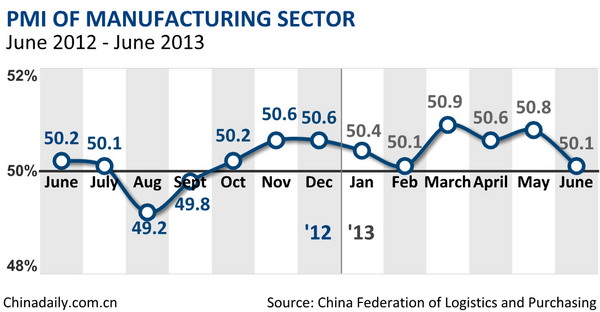 BEIJING-- The purchasing managers' index (PMI) for the manufacturing sector fell to 50.1 percent in June from 50.8 percent in May, according to data issued by the China Federation of Logistics and Purchasing (CFLP) on Monday.
The PMI stayed above 50 percent for the ninth consecutive month in June.
A PMI reading greater than 50 indicates expansion, while a reading below 50 indicates contraction.
Major PMI compounds all declined in June, indicating downward pressure on the economy, said Zhang Liqun, an analyst with the Development Research Center of the State Council.
But Zhang also added that economic growth is still in a process of stabilizing. Inventories have reached a historically low level, suggesting limited room for further decreases, he said.
Investment and consumption remained generally stable in the first five months of the year and the actual export growth rate did not see a significant fall, Zhang explained, adding that policies targeting stable growth will gradually take effect.
In June, the sub-index for production moved down from 53.3 percent in May to reach 52.0 percent, while the sub-index for new orders lost 1.4 percentage points to hit 50.4 percent, according to a joint statement from CFLP and the National Bureau of Statistics.
The sub-index for raw material inventories was down 0.2 percentage points from the previous month to 47.4 percent in June, marking the fifth consecutive month of shrinking stocks.
The sub-index for the purchase prices of raw materials lost 0.5 percentage points to reach 44.6 percent in June, staying below the 50-percent demarcation line for a third consecutive month.
The data also showed that the employment sub-index for June pared 0.1 percentage points to 48.7 percent, indicating job cuts, while the sub-index for supplier delivery times moved down 0.5 percentage points to 50.3 percent.
On Monday, British bank HSBC also released its final PMI reading for the manufacturing sector, dropping to 48.2 from May's reading of 49.2 and hitting a nine-month low.
HSBC's PMI reading, which focuses more on small and medium-sized manufacturers, showed that the sector's production shrank for the first time in eight months.
Qu Hongbin, chief economist at HSBC China, said China's manufacturing activity was weighed down by declining orders and climbing inventories.
HSBC cut its forecast for China's GDP growth this year to 7.4 percent in mid-June, down from its previous forecast of 8.2 percent.
Recent tight liquidity in China's interbank market has also added to concerns regarding China's growth momentum.
The cash crunch may result in a contraction in commercial banks' off-balance sheet business, worsening financing conditions for small and medium-sized enterprises, according to Qu.
Qu said slower economic growth will continue over the next few months, as a government stimulus plan is unlikely.
But there is little risk for a hard landing, as the government has moved to reduce financial risks and stabilize the employment market, according to Qu.