China-Japan travel still low on Diaoyu tensions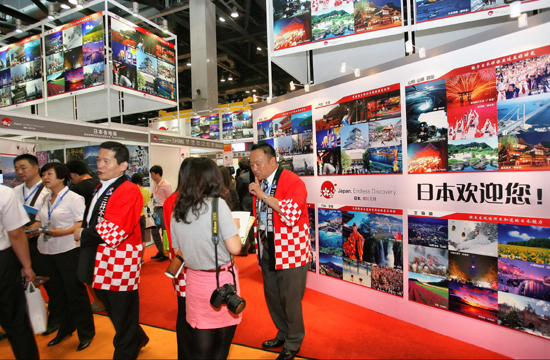 Travel promoters at Japan's booth at the 2011 Beijing International Tourism Expo. The number of tourists traveling between the two countries has dropped significantly amid safety concerns and strained bilateral relations. [Photo/China Daily] 
Agencies increase focus on other markets to replace lost business
Travel agents are reporting a continuing slump in business between China and Japan, even in the run up to Spring Festival, the traditional peak season for the country's travel industry.
Agencies say there is still no indication, that business between the countries will improve over the next couple of months.
Japan's illegal "purchase" of the Diaoyu Islands in September sparked tensions between the two nations, and relations continue to be strained.
In the four months since, many Chinese tour groups to Japan have been cancelled, and new business has been largely a fraction of its normal level, say agents.
Elsewhere across the economy, sales of Japanese goods have also been affected, most notably cars.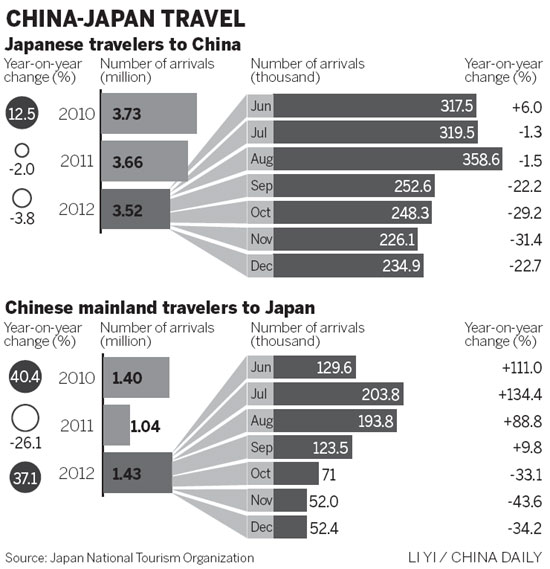 A manager at China International Travel Service Ltd (CITS), one of the country's largest travel agencies, said not a single tour group has been organized to go to Japan before March, and that the company remains highly skeptical business will pick up anytime soon.
Zhang Qingzhu, the marketing manager of China Comfort Travel Group Co Ltd, another leading travel organization, said it had canceled all its tour groups to Japan since September 2012, and is yet to start taking new orders.
In one of its major tour packages last year, the company originally planned to send 50,000 travelers to Japan, but had to cancel the project due to strained bilateral relations, said Zhang.
"Our Chinese customers are still worried about safety if they visit Japan right now, due to the soured bilateral relations," she added.
The latest statistics from the Japan National Tourism Organization show that in December the number of travelers between the Chinese mainland and Japan dropped 34.2 percent compared to the same period in 2011, after similar falls in November and October.
Chinese agencies say they are searching for alternative markets to make up for the lost business to Japan.
CITS said that Hawaii has proved popular, and China Comfort Travel added that packages to nearby South Korea have been doing very well so far in 2013, and are fully booked over the Lunar New Year.
Meanwhile, the number of Japanese travelers coming to China has also slumped dramatically.
The news agency AFP reported that package tour bookings to China from there dropped 80 percent for February and March.
Statistics from the China National Tourism Administration also suggest that 3,518,200 trips were made to China from Japan in 2012, a 3.83 percent drop on 2011, but that since September they had dropped 20 percent.
However, some experts suggest the row between the two countries is not the whole story behind the fall in numbers.
"The drop in inbound numbers is also a result of the global economic recession and stiffer competition from other markets," said Jiang Yiyi, deputy director of the International Tourism Development Institute at China Tourism Academy.
And it's not just from Japan, she added, with numbers believed to be also dropping from other countries such as Canada and Russia.
She added that travel companies in Japan have been particularly hard hit, as they appear not to have been able to replace their lost business to China as easily as agents in China have been able to shift to other destinations.
"China is a very good market for Japanese travelers, and it has been hard for the Japanese tourism industry," said Jiang.
She added that Chinese travelers have contributed strongly to Japan's economic recovery, and replacing their lost business will be tough.
Zhang Han, a 28-year-old Chinese man working with a travel agency in Sapporo for the past four years, told China Daily he has had to look for a new job as orders from China dried up in recent months.
Jiang said: "Whether the situation will get better depends on the Japanese government's attitude toward the islands issue and bilateral relations."
wangwen@chinadaily.com.cn