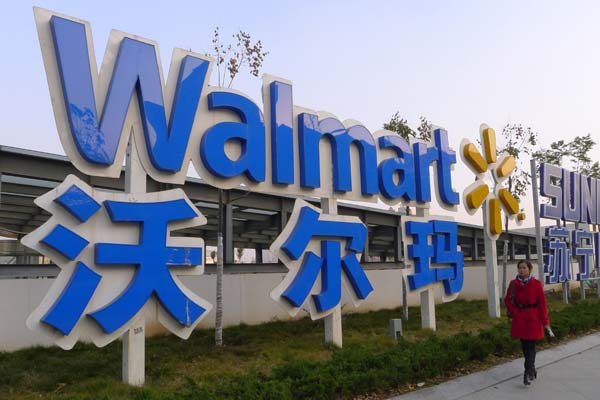 A Walmart store in Huaibei, Anhui province. [Photo provided to China Daily]
GUIYANG - US
retail
giant
Wal-Mart
Stores, Inc plans to open more than 100 new stores in China over the next three years, a senior executive said on Thursday.
Raymond Bracy, Wal-Mart China's senior vice president of corporate affairs, said the new stores will create about 18,000 jobs and the company also plans more logistics facilities and Sam's Club stores -- a kind of warehouse shopping club with a membership system.
Speaking at the opening of a fourth store in Guiyang, capital city of southwest China's Guizhou province, Bracy said Wal-Mart is very optimistic about the growth of the Chinese market, especially in the west of the country.
Though China's western provinces remain relatively poor compared to coastal provinces in the east, the growth of the market in the western region over the past few years has been robust. Bracy pointed to an expanding middle class being encouraging for Wal-Mart.
He also noted that Wal-Mart would push for development of e-commerce, the retail giant's purchase of a majority stake in Chinese e-commerce company Yihaodian having been approved by regulators in August.
Since its entry into China in 1996, Wal-Mart has opened 384 stores in 147 cities and partnered with nearly 20,000 local suppliers.