The leading Chinese agribusiness company New Hope Group is expanding to South Africa, Egypt, and Eastern and Central Europe after a decade of exploration in Southeast Asia.
New Hope Chairman Liu Yonghao told China Daily: "Going abroad helps us obtain cheaper land and grain and we bring our advantages of brand, technology and management, so it's a win-win strategy."
Liu said the company will set up factories or acquire companies dealing in the pork, poultry and dairy sectors in the three destinations.
He added that the pace of expansion in Southeast Asia this time would be faster than before. Since 1999, when it launched its first factory in Vietnam, New Hope has set up more than 20 animal feed plants and poultry farms in Southeast Asian countries, including the Philippines, Indonesia, Cambodia and Singapore.
New Hope and the leading global private equity firm Blackstone Group LP are through to the final round of bidding for Australia's largest poultry producer, Inghams Enterprises, in a deal that could be worth as much as A$1.4 billion ($1.5 billion), according to Reuters. Media reports said final bids are due by mid-December.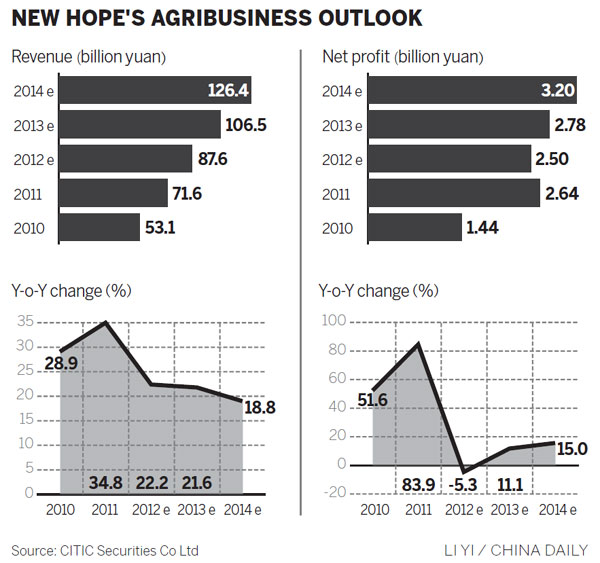 Liu and a senior executive at Blackstone declined to comment on the deal.
Last year, New Hope recorded sales revenue of more than 80 billion yuan ($12.7 billion) and it is expected that the figure will increase by 10 percent this year, missing the target of 100 billion yuan set by the group earlier this year, Liu said.
Revenue of New Hope Liuhe Co Ltd, a subsidiary company in the group listed on the Shenzhen Stock Exchange, was 71.6 billion yuan in 2011, a year-on-year increase of 34.8 percent, the company's annual financial report showed.
Liu said the agricultural and animal husbandry industry faces many challenges this year. For instance, the price of pork has fallen a lot since September 2011, posing significant challenges for the group.
"It is normal that every industry has its ups and downs, and it is expected that by the latter half of next year pork prices will be back to normal," Liu said.
He said although New Hope also invests in the chemical, finance and real estate sectors, its core business remains agriculture.
"Our target is to build our company into a world-class feed producer and agribusiness operator processing more than 2 billion chickens, 2 billion ducks and about 10 million pigs each year," Liu told a forum, held by the Founder magazine and Chrysler in Beijing.
He said the Chinese agriculture market is huge but production units in China are small and decentralized. So it is important to seize the opportunity and improve technology, financial services and organizational systems in the sector. More mergers and acquisitions will take place.
Andre Loesekrug-Pietri, chairman of the Beijing-based European private equity company A Capital, said expanding abroad is not easy because buyers need strong capacity to conduct merger and acquisition deals.
"Making acquisitions is highly complex and requires long experience and multiple trials and errors. Closing the deal is the relatively easy part. The key is to successfully manage the integration and the realization of the synergies between the parties. This is where local management and expertise also plays a critical role," he said.
"Nevertheless, we see some Chinese companies becoming more and more mature when going abroad."
The Ministry of Commerce said China's outbound direct investment is estimated to reach $150 billion by 2015.
Sany Heavy Industry Co and Citic PE Advisors paid 360 million euros ($475 million) this year for concrete-pump maker Putzmeister Holding GmbH to add technology and expand overseas.
In 2011, investment firm Fosun took a stake in Folli Follie Group SA, a high-end global retailer based in Greece, with an initial investment of 84.58 million euros.
Wan Ge, an analyst at China Venture Group, said: "The number and value of completed outbound M&A deals have greatly increased. One main reason is that Chinese enterprises have been showing great confidence in developing businesses by merging with, and acquiring, overseas companies."
Contact the writers at caixiao@chinadaily.com.cn and huhaiyan@chinadaily.com.cn