Chinese car makers often hesitate to issue recalls for defects, but that may soon change
Li Baoquan, a Beijing citizen, envies car owners in the United States because their vehicles can be recalled upon discovery of a defect. Chinese consumers are not so fortunate.
Li says his new Chery car has sprung an oil leak. He went to the car dealer and discovered similar claims by many other car owners. The dealer can offer free repairs within the warranty period, but beyond that car owners have to pay out of pocket. In the United States, a faulty model would be recalled no matter what.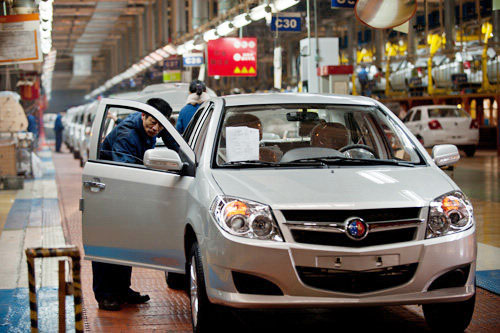 Workers assemble cars at a workshop at
Zhejiang
Geely Holding Group
. Due to size discrepancies in the fuel tanks, Geely ordered a recall of 55,018 vehicles on Sept 29, 2012. [Photo/CFP]
Luckily, Li's car is under warranty, but he still worries about other possible defects. The Management Regulations on Recalling Faulty Vehicles will be implemented on Jan 1, 2013, much to Li's relief.
"Eventually, China will have the same laws regarding car recalls as in the United States, and this is undoubtedly good news for consumers," he said.
Jia Xinguang, a senior independent analyst on the automobile industry, says that despite China's status as the world's biggest car market, the country is lacking adequate laws when it comes to recalling faulty vehicles. After eight years of effort, car recall has become national law, a reflection of the government's attitude toward bettering the auto market.
Improving the market
Car recalls are not new in the United States, which created the world's earliest recall system. Car recalls are in place in Europe, Japan, South Korea and other countries.
The auto industry in China saw rapid development after 2001 when China entered the World Trade Organization. Since car recall was an internal government provision formulated in 2004, it had no compulsory legal backing powerful enough as national laws and regulations do.
As China has become the world's biggest car consumer and as the domestic auto market matures, those with their eyes on purchasing a car are becoming more concerned about quality and safety.
Because of an absence of related laws and regulations, automakers often evade consumers' claims. International automakers such as Toyota and Honda even exclude the Chinese market when recalling some faulty models in other countries.
China and US Recalls in 2011
In China, 18.5 million automobiles were sold, with 82 recalls involving 1.82 million vehicles.
In the United States, 12.78 million automobiles were sold, with 593 recalls involving 14.5 million vehicles. 
Compared with the US car market, China has far fewer recalls. As incomes rise and more Chinese buy vehicles, the government has been under pressure to improve related laws and regulations.
According to the new regulation, if there is a defect that may compromise safety, the production, sale and importing of such vehicles should be suspended and the producer must initiate a recall. Producers are subject to a fine of 2-10 percent of all vehicle sales should a recall not be issued.
Qiu Baochang, head of the lawyers for the China Consumers' Association, says that a fine of 10 percent of the total value of the faulty products could spur automakers to issue more recalls.
Jia thinks that the new regulation is good news for the "guaranteed repair, replacement and return" of cars and enhances the government's ability to investigate faulty products.
Adapting to recall system
Due to size discrepancies in its fuel tanks, Zhejiang-based automaker Geely recently ordered a nationwide recall of 55,018 MK and MK2 vehicles manufactured between Jan 1, 2009 and Nov 30, 2011.
This is the seventh time domestic brands have had to recall products in the past three years, far fewer than the 170 recalls by joint venture manufacturers and foreign brands.