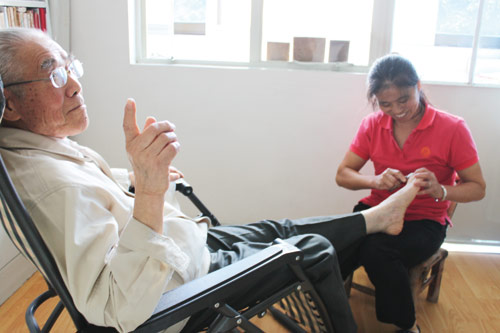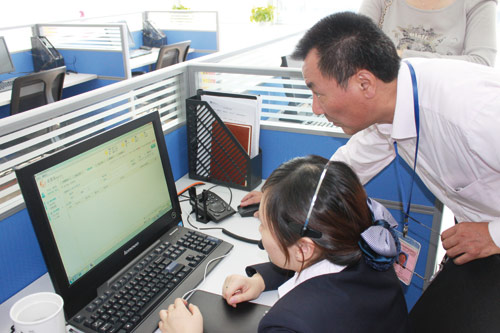 From top: Housekeeper Shi Jinmei trims the nails of Cai Guisan, in Suzhou, Jiangsu province. Lu Zhong (right), deputy director of the Jujiale service center, checks an employee's computer management system. Photos by Zhou Furong / China Daily
Though traditional Chinese morality emphasizes being filial, an ageing society is producing innovative care in the community programs for the elderly. Wang Kaihao reports in Suzhou, Jiangsu province.
At this retirement home in Canglang district, in Jiangsu province's Suzhou, there is no living room. In fact, there are no senior citizens. Instead, about 10 employees are busy on the phone, which resembles the customer-service department of any company.
"Our service staff will arrive at your home at 8:30 am tomorrow, please be prepared," one worker says while a colleague nearby says "Happy birthday!" on another line.
On the computer screen they stare at lists and the items for the housekeeping services of each individual. This is the district headquarters for Jujiale, a service center for aged people.
The name literally means "living happily at home", and the center was launched by the district's bureau of civil affairs in 2007.
The project's aim was to offer free services for low-income families, but it has extended to 6,100 pensioners in 4,400 private homes in Canglang. The district has 64,000 citizens over 60.
"This is a virtual retirement home," says Lu Zhong, deputy director of the center. "We cannot wait for aged people to ask for help. Instead, we need to react more positively. We will remind them of the appointed service time in case they forget, and offer holiday and birthday greetings as psychological comfort."
Cai Guisan, 88, is a retired high school teacher living alone in an old apartment. His wife died in 1974, and his elder son has migrated to France.
"He always wants me to move to France, but I don't like to leave because this is my nest," Cai says.
His younger son, an antiques appraiser living in Suzhou, also leads a busy life.
"Well, he visits me only once every one or two months," Cai sighs. "He didn't even have time to come inside when he brought me moon cakes before the Mid-Autumn Festival."
He says this situation is disappointing, but he does not feel lonely since he has been registered with Jujiale's project since 2010.
Shi Jinmei, 47, a laid-off worker from an electrical appliance factory, does three hours of household chores a day, three times a week. The government covers the cost of two service visits a month, while Cai pays the rest, which is 15 yuan ($2.40) for one hour.
"So, it is a public-private joint business for me," Cai jokes. "At least, I can contribute to stimulating our country's domestic demand."
Shi looks shy as she prepares lunch and cleans the room.
"She is an ambassador to express love," Cai smiles. "I used to do the housework all by myself, but I have to confess I am not that energetic now."
However, Cai loves travel. Once, at the end of a trip, he took a train back to Suzhou but was delayed by bad weather and his cell phone ran out of power. Shi and her husband prepared his dinner and waited for hours until he returned.
"I was very worried at that time," says Shi, who has worked in more than 20 homes in the community. "Sometimes I feel it is not only a job but rather friendship to serve these old people who have no children living with them."
Shi prepared Cai a dinner for free on the eve of Chinese New Year because his sons were absent.
The system also cares for people with difficulties who are under 60.
Li Fengjuan, 56, who suffers from paralysis due to polio in childhood, signed up for the service in 2009. She never went to school and doesn't understand Mandarin.
Jujiale has assigned Zhou Wenjuan, a villager, to help her with her daily tasks. Zhou talks to her in the Suzhou dialect. All Jujiale employees must be able to speak the local dialect, which is similar to Shanghainese.
"They are like my sisters," says Li of the assistants. "I could make a movie about them to show how they have helped me."
"We were forced by reality to design this project," says Shen Wenxin, who is in charge of senior citizens' affairs at the district's bureau of civil affairs.
"The grown-up, predominantly only children in Chinese families face huge pressure supporting their aged parents since there is no sibling who can help them. If they let parents live in retirement homes, they are often considered to be unfilial.
"And the privately owned housekeeping companies lack industry standards, which makes it difficult to supervise the quality of care."
Jujiale, however, has a rigid evaluation system. The service center calls customers for feedback on each of their 180 housekeeping employees, in all six communities in Canglang. It has established a database recording the details of their service.
"Data has the final say," Lu explains. "We are not an enterprise, but we want to run it as an enterprise so that it is well managed."
The center has added new services provided for a fee, including food delivery, repairs and haircuts. These generally cost an extra 10 to 15 yuan. It is also working with technology companies to design a remote monitoring network to follow clients' health conditions.
However, both Lu and Shen would like to improve the capabilities of their employees. For example, the housekeepers in Jujiale usually start after just one week of training. Though most of them are experienced housewives, few have undergone systematic nursing courses, which is important to care for sick senior citizens.
"The project is still preliminary," says Liang Zhenhua, deputy chief of Suzhou municipal bureau of civil affairs. "The government is not able to solve all the problems. We have to introduce more enterprises, including catering, logistics and information technology, and professional medical institutions."
Though 109 institutions have taken part in the project, Liang expects to see more from different industries that can offer services for "everything related to the senior citizen's life". The municipal government will allocate 20 million yuan ($3.19 million) from the sales of welfare lottery tickets to promote the system. It is planned to cover the city's downtown area by the end of 2013, and will then be expanded to all of Suzhou.
"We plan to establish personal health files and an information database for every senior citizen to better arrange resources," Liang says, looking confident.
Suzhou plans to have 90 percent of its senior citizens supported at home by the end of 2015, while traditional retirement homes will accept 4 percent of the population.
"The traditional retirement home is an indispensable channel to take care of old people with severe illness, disability or complete incapacity to look after themselves," district official Shen says. "But supporting the majority of old people at home will be the most economical way for the public, and this is the only way in which can meet each individual's various demands."
"No matter how our system develops, it is the responsibility of people to take care of their parents," he continues.
"So I am against continuing our equally frequent services during the weekend when people should spare time for their aged parents. Our employees also need rest."
Contact the writer at wangkaihao@chinadaily.com.cn.
Zhou Furong contributed to the story.