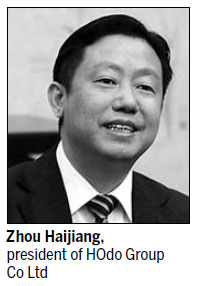 The private company HOdo Group Co Ltd, a textile and garment company in Wuxi, Jiangsu province, is looking to expand its presence in Sihanoukville, a province in southern Cambodia, in an attempt to diversify its business.
Zhou Haijiang, president of the company, said it has made hefty investments since 2007 to establish the Sihanoukville Special Economic Zone in the Prey Nob district. The project now occupies three square kilometers and is expected to be eventually expanded to 11 sq km.
The total investment in the zone is to reach $320 million, Zhou said.
"After its completion, the zone could help create 150,000 jobs for the southeastern Asian country in the next few years," he said.
Zhou, 46, is one of 24 private entrepreneurs who have been elected to be delegates to the 18th National Congress of the Communist Party of China, which is scheduled to start on Nov 8.
HOdo, which sells clothing under its HOdo brand, had 35.1 billion yuan ($5.6 billion) in revenue in 2011, an amount that has continued to show double-digit percentage increases since 2008.
The economic zone is a fully functional business park, which has already attracted 23 companies.
Among them are eight foreign companies, including the Ireland-based Horseware Products (Cambodia) Co Ltd, US-based Galey Global (Cambodia) Co Ltd and French Cambodian Gateway Underwear Co Ltd, Zhou said.
More than 95 percent of the employees at the zone are local residents.
"HOdo's attempt was made to echo the nation's call to 'go global', and the park is one of nine economic zones that have been initiated by Chinese companies abroad," Zhou said.
The construction of the zone has been aided by low costs, favorable trade conditions and the vast market of the Association of Southeast Asian Nations.
Insiders said veteran workers there earn about $100 a month and companies employing about 1,000 people will pay about 27 million yuan less to operate in the zone than they would at the average factory in China.
Cambodia also has no quotas limiting the amount of cotton that can be imported into the country, which helps companies there reduce their costs for raw materials.
Contact the writers at yangcheng@chinadaily.com.cn and zhangshiyi@chinadaily.com.cn