Lenovo Group Ltd, the world's second-largest and China's largest PC maker, has agreed to buy Brazilian consumer electronics maker CCE in a cash-and shares-deal worth approximately 300 million Brazilian reais ($147 million).
The purchase of CCE, Brazil's largest domestic manufacturer of electronics, will allow the Chinese giant to nearly double its share of the PC market in the world's sixth-largest economy to about 8 percent from 3.7 percent and diversify its product portfolio from single PCs to other electronic products such as tablet PC and smartphones.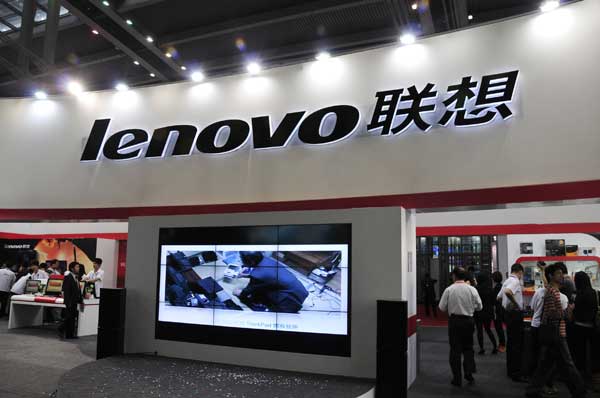 Lenovo Group Ltd's booth at a trade show in Shenzhen, Guangdong province. The company's purchase of CCE, Brazil's largest domestic producer of electronics, will allow the Chinese giant to nearly double its share of the PC market in Brazil. Provided to China Daily
The deal will also add mobile phones and televisions to its product line in Brazil, where it recently announced plans to build a $30 million factory, helping it expand beyond its current focus on the corporate sector.
During the second quarter of this year, Lenovo was ranked Brazil's seventh-largest PC supplier, and CCE ranked sixth.
The move also brings the Chinese PC giant closer to becoming the largest PC vendor globally.
The deal, paid for with 25 percent in Lenovo stock and the rest in cash and expected to be completed by the first quarter of 2013, will see CCE's management team retained, including its founder and CEO, Roberto Sverner.
According to the US-based research company IDC, CCE held 0.1 percent of the global PC market share in the second quarter this year, and its purchase will help Lenovo narrow the gap between it and world leader Hewlett-Packard Corp to 0.6 percent.
A Lenovo executive told China Daily that this latest expansion marked a change from previous moves by the company, given CCE's relatively small market share in Brazil.
The company's headline overseas expansions so far have been its purchase of the US PC division of IBM Corp in 2005, last year's $175-million joint venture with Japan's NEC Corp, and the acquisition of Medion AG, the German multimedia and consumer electronics maker.
NEC was the largest PC maker in Japan when Lenovo made a deal with it, but this time around, analysts said its taking over of CCE is aimed more at creating brand value and improving its sales channel into what is a massive consumer market.
Almost all of Lenovo's PC sales in Brazil previously came from the commercial market, a legacy of its IBM deal, explained Lenovo chief financial officer Wong Waiming.
"The 2014 World Cup and 2016 Olympic Games will boost the growth in PCs and smart TVs, and this will allow us to take on that consumer market."
The PC penetration rate in Brazil is only around 20 percent, compared with 80 percent in developed economies such as the US and Japan, Wong said.
"The Brazilian market is similar to the Chinese market - local brands have noticeable advantages in tax incentives and customer loyalty."
Wang Jiping, a senior research manager at the international product design company IDC China, said: "This acquisition will bring Lenovo among the first-tier PC vendors in Brazil, neck-and-neck with HP and local vendor Positivo."
Tuoyannan@chinadaily.com.cn