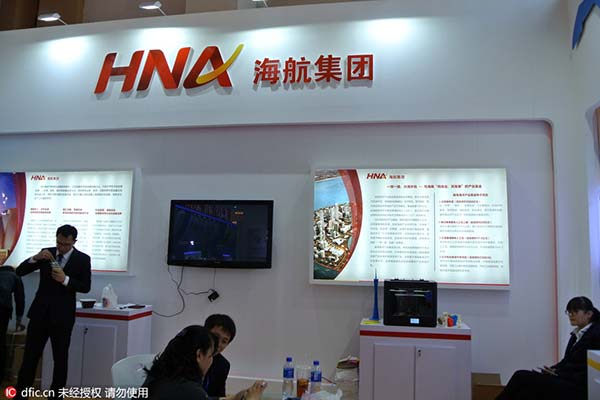 Chinese employees are pictured at the stand of HNA Group during the 11th Beijing International Finance Expo (Finexpo 2015) in Beijing, October 30, 2015. [Photo/IC]
Airline group to buy Ingram Micro at price of $38.9 per share, valuing it at $6 billion
HNA Group, the fourth-largest airline group in China, announced on Thursday its purchase of Ingram Micro Inc, a US-based electronics distributor with an equity value of around $6 billion.
HNA is making the acquisition through its subsidiary Tianjin Tianhai Investment Co Ltd at a price of $38.9 per share in an all-cash transaction, which is a premium of nearly 39 percent over Ingram's average closing share price for the 30 trading days ended Tuesday.
The transaction is expected to close in the second half of 2016, according to the two sides' agreement, and Ingram will be the largest subsidiary of HNA in terms of revenue.
In conjunction with the announcement, Ingram is suspending its quarterly dividend payments and its share repurchase program prior to the closing of the transaction.
Ingram will continue to operate independently, and the company's corporate headquarters will remain in Irvine, California, said Alain Monie, CEO of Ingram.
"Our agreement to join HNA delivers near-term and compelling cash value to our stockholders," he said
Also, Ingram will benefit from being part of a larger organization that has complementary logistics capabilities and a significant presence in China as well as other emerging markets, he added.
The acquisition will also be helpful for HNA's logistics sector, as Ingram has a worldwide logistics and distribution network.
With the help of Ingram, HNA would have access to business opportunities in emerging markets, which have higher growth rates and better profitability, said Tan Xiangdong, vice-chairman of the board of directors and CEO of HNA Group.
"Furthermore, the addition of Ingram would help the logistics sector of HNA transform from a logistics operator to a supply chain operator, and provide one-stop services while improving efficiencies," Tan said.
HNA is already an active player in the global merger and acquisition market, with its M& As valued at around 36.9 billion yuan ($5.66 billion) in 2015.
Its purchases have included foreign airlines, an online travel agency, overseas real estate and a cargo handling group.
"HNA has already developed into an investment subject from an industrial group," Chen Wenli, vice-chairman of HNA, said in an earlier interview.
The group and its subsidiaries will complete their industrial structures through investments, he said.
Experts said that the company has adopted this strategy to avoid market risk and for the group to expand its business regions.
Non-aviation businesses have already become a major revenue resource for HNA, said Li Xiaojin, head of the Civil Aviation University of China's Air Transport Economy Institute.
Technology businesses with high profit margins and huge development potential are also a direction for the group, Li said.
Also, it is reasonable to invest in overseas properties, as it may be a hedge against a weaker yuan, he said.