BEIJING -- Future retirees may face the risk of getting a "bad check", as individual pension accounts are increasingly underfunded, local media reported Monday.
Unfunded liabilities in the individual accounts of China's pension system exceeded 2.2 trillion yuan ($348 billion) in 2011, about 500 billion yuan more than the previous year, the Beijing-based Economic Information Daily reported, quoting a government researcher.
Chinese employees had paid 2.5 trillion yuan into their pension accounts by 2011, but only about 270 billion yuan was payable, Zheng Bingwen, director of the Center for International Social Security Studies under the Chinese Academy of Social Sciences, told the newspaper.
A large number of wage-earners won't be able to withdraw pensions from their individual accounts when they retire in the future, even though the numbers appear to add up, if the gaps are not filled, Zheng said.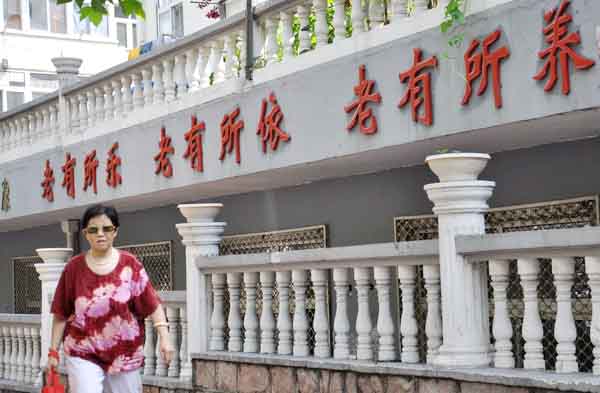 An elderly walks by retirement houses in Qingdao, Shandong province, July 11. [Photo/Asianewsphoto]
The solvency of China's pension fund system has become a hot topic amid the expansion of China's ageing population.
Established in the 1990s, China's pension system consists of individual accounts, into which employees pay 8 percent of their salaries, and social pool accounts, to which companies contribute 20 percent of their employees' total salaries.
Although individual accounts are supposed to be kept intact until their owners retire, authorities in most places have been forced to "borrow" money from these accounts to pay pensions to elderly people who began working before the 1990s and didn't pay into their retirement plans.
To dismiss public worries over the pension dilemma, Vice-Minister of Human Resources and Social Security Hu Xiaoyi said earlier this year that the pension fund is "sufficient on the national level".
The national pension fund had 1.95 trillion yuan in its accounts at the end of last year, according to official data.
Zheng said the current growth of the fund's revenues can cover its expenditures for now, as millions of new workers join the pension program each year and make large payments into their individual accounts.
However, he warned of potential insolvency when the current working generation retires and the pool shrinks because of a decreasing younger population.
Some 123 million Chinese were older than 65 years of age by the end of 2011, and the number is expected to rise to 323 million, or more than 23 percent of the nation's population, by 2050, official figures show.