It wasn't supposed to be like this
Lin Peifeng, a Chinese engineer, points at a blueprint that shows a giant fertilizer chemical plant, along with two electric power plants, several warehouses and workers' dormitory buildings.
But outside the window of his container-turned temporary office, battered by the howling winter wind, stretches a tract of land thickly covered with withered yellow grass, dotted with occasional piles of coal in the distance.
In reality, there is only wilderness.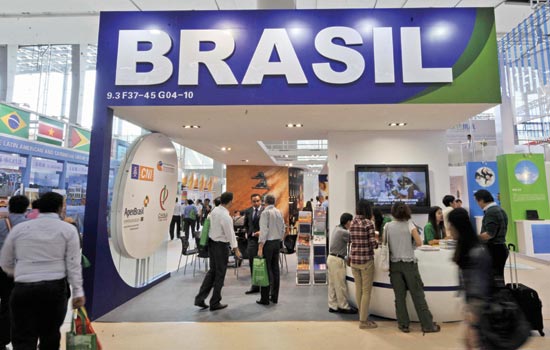 A trade booth representing Brazilian businesses at the 110th Canton Fair in October. In 2010, $17 billion in Chinese investment flowed into Brazil, making China the country's largest foreign investor. [Photo/Agencies]
This construction site in Rio Grande - a northern city in South Argentina's Isla Grande de Tierra del Fuego - is no ordinary one.
It dates back to early 2010, when, in a bid to meet the South American country's growing demand for fertilizers, three Chinese companies from the country's energy and coal chemical sector - Shaanxi Coal & Chemical Industry Group Co Ltd, Shaanxi Xinyida Investment Ltd and Jinduicheng Molybdenum Group Co Ltd - made a joint investment worth $1 billion, to deliver a plant that could produce 450,000 metric tons of ammonia and 800,000 tons of urea per year.
It is so far the largest Chinese investment in the whole Latin American region.
With the promise of fantastic prospects and support from both governments, agreements for the investment were signed to huge media fanfare on both sides of the world.
But the initial enthusiasm soon cooled and strains began to show.
Tension came to a head in April when a shipment of vital construction equipment and machinery was barred from entering a port in Argentina, due to the country's import restrictions.
Lin works for Tierra Del Fuego Power & Chemical Co Ltd, known as TEQSA in Spanish, a company set up by the three Chinese companies to take charge of the project.
The Argentine government has declined China Daily's repeated requests for comments on the issue, but lacking the necessary machinery, the construction work, supposed to have been finished by April, was also halted.
"There's not much to do here," added a Chinese construction worker at the site.
"I have put on 10 kilograms in weight."
Two years after the agreement was signed, the project is still no further than at the preliminary stage.
"There are troubles, troubles everyday," said Li Dacan, TEQSA's general manager, as he describes his work over the past three years.