Loan exchange may forge a profitable path for the economy, Gao Changxin reports in Wenzhou.
Xu Zhiqian appeared embarrassed by the media attention he has drawn as president of China's first loan exchange, established as part of a financial reform experiment in Wenzhou, a boomtown in Zhejiang province.
On a rainy Tuesday in his office in the center, Xu was reluctant to be interviewed. His throat was sore and he could hardly speak after holding a news briefing earlier that morning and answering a stream of phone calls from media across the country, he explained.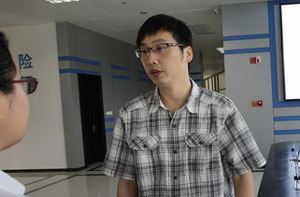 Xu Zhiqian (R), head of the Wenzhou Private Lending Registration Service Center, talks to a potential lender. [Photo/China Daily]
But talk to the media he must, because of the growing public interest in the Wenzhou trial that will set an example for the much wider financial reform that is a centerpiece of the 12th Five-Year Plan (2011-15). Appointed to lead the Wenzhou Private Lending Registration Service Center, Xu, who worked in the financial industry for more than a decade, said he felt overwhelmed and pressured by the media bombardment. "It makes you feel everybody is watching and you dare not make a mistake," he said.
The nation is certainly watching. Xu's center is one of the first moves in a 12-point financial reform pilot launched in Wenzhou that aims to channel private funds into the financial system. Many economists believe reform is urgently needed in China, where the underdeveloped financial system is hampering the growth of the real economy, which generally involves manufacturing.
The case of Wu Ying, a businesswoman convicted of illegally raising 770 million yuan ($122 million), has wrecked the nerves of underground lenders, who sit on combined capital estimated at $1.3 trillion. Many of them hope the Wenzhou reforms will prompt legislation that affords legitimacy to shadow banking, the practice of raising money from the public with promises to pay it back at high rates of interest.
On May 21, a court in Zhejiang province sentenced Wu to death, albeit with a two-year reprieve. This usually translates into life in prison and is often further reduced for good behavior. The ruling came after the Supreme People's Court overturned a previous death sentence on April 20 and sent the case back to the provincial court for resentencing.
Wenzhou, China's private capital powerhouse, was selected for the pilot project after debt-ridden local entrepreneurs, unable or unwilling to repay what they owe, fled the city last year when State-owned banks cut back on lending to small and medium-sized enterprises amid credit-tightening measures instigated by the People's Bank of China.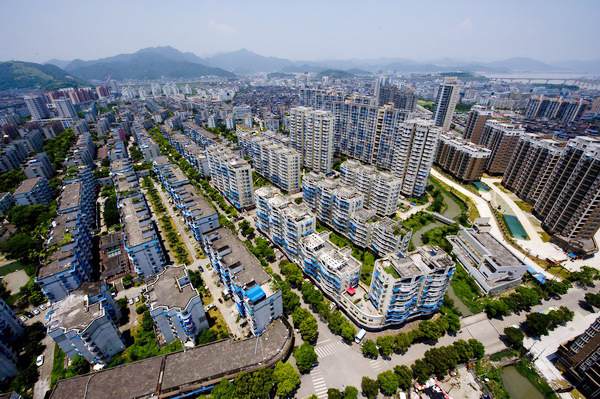 A bird's eye view of Wenzhou, a city in Zhejiang province with a booming private sector, which provides 80 percent of the jobs in the urban areas. [Photo/China Daily]
During the credit crunch, approximately 100 Wenzhou entrepreneurs were reported to have disappeared, declared bankruptcy or even committed suicide, invalidating debts of 10 billion yuan.
The Wenzhou pilot project covers 12 major areas, including the development of privately owned financial services, the establishment of village banks and rural financial co-ops and encouraging State-owned banks to lend to smaller businesses. Setting up a mechanism to facilitate and monitor private lending is also one of the major tasks.
Xu's center acts as an incubator for money brokers, matching those willing to lend with those who want to borrow. Relying on its government background, the center can help brokers fast-track government procedures and provide them with legal and notary services. But it requires that all the deals reached through the center are registered.
For example, the center has direct access to the local housing and vehicle management authorities, which can expedite mortgages and vehicle loans. So far, four brokers have set up camp in the center, including financial industry leaders such as Sudaibang and Creditease.
The center, established by 14 corporations and eight individual investors and with registered capital of 6 million yuan, requires collateral, mostly cars and homes, for every loan. Crucially though, it allows those in need of funds to borrow more as a percentage of their collateral, compared with banks.
The center only provides services and doesn't guarantee loans extended through the brokers. "So for lenders, it's caveat emptor (Let the buyer beware) with added caveat," said Xu. But the center does control risks. It limits loan rates to less than four times the benchmark interest rate set by the central bank and urges brokers to conduct credit checks on potential borrowers.
The center's most important function is that of monitoring private lending in Wenzhou. The registration scheme will allow the center to compile data, assess systemic risks and, if necessary, take action before things can get out of control.