Tencent apologizes for sex slave emojis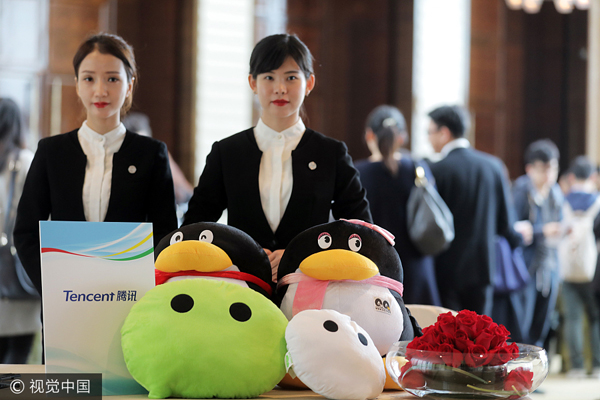 Soft toys promoting QQ and WeChat, operated by Tencent Holdings Ltd, are displayed as attendees arrive for a Tencent news conference in Hong Kong, March 22, 2017. [Photo/VCG]
Technology giant Tencent has apologized after users of its QQ instant-messaging service were found sharing emojis made with pictures of wartime sex slaves.
The emojis-using images taken from Twenty Two, a newly released documentary about "comfort women" during World War II who were forced into sex slavery by the Japanese army-are overlaid with phrases in Chinese such as "I am lost" and "I am wronged".
Outraged netizens complained to the company, which responded on Tuesday by saying all of the offending emojis had been removed from the platform.
"The incident has exposed shortcomings ... in terms of content examination and supervision," the company said in a statement. It also operates WeChat.
"We will carry out a review immediately," it said, adding that it welcomed netizens' feedback on its products and would work to avoid a repeat of this sort of incident.
The company said the emojis had been made by Siyanhui Co, a third-party company that produces emojis for social media platforms.
According to Tencent's rules, all users are allowed to upload emojis that are displayed after approval.
The criteria include "rich creativity, clear connotation" and "being able to add fun into a chat".
Emojis also have to be in line with moral codes, laws and regulations.
Twenty Two was released on Aug 14 to coincide with International Memorial Day for Comfort Women.
The 90-minute documentary features 22 Chinese women who share their accounts of being sex slaves of the Japanese during World War II. As of August, only eight of the 22 are still alive. All are in their 90s.
The movie has seen an unexpected spike in sales, according to data from Maoyan, a Chinese film database. Many well-known Chinese actors and directors have called on the public to watch the film at cinemas to pay tribute to the women.