China steps up efforts to regulate booming live streaming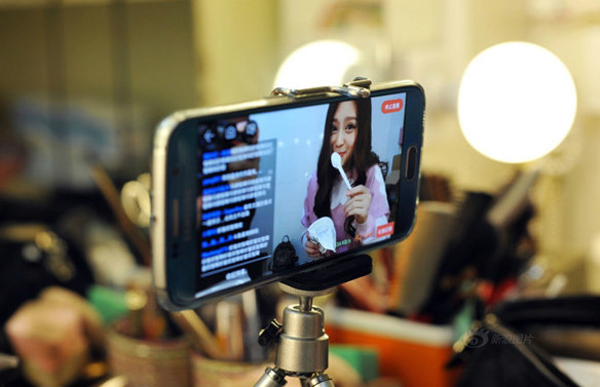 An online anchor uses her mobile phone to do live streaming. [Photo/Xinhua]
BEIJING - Online streaming sites are big business in China, catapulting many unknowns to stardom, however, until recently they have operated in a regulatory gray area.
At any given time, up to 325 million users could be watching or broadcasting on one of over 300 online live streaming sites in China.
As of June 2016, the country had 710 million Internet users, with 656 million using their cellphones to go online. This ease of access means that the number of people using live-broadcast sites looks set to continue to climb.
Obviously, this is good news for the providers of these services; however, there have been reports of violent, obscene and vulgar content - all produced to generate an income, both for the users and the companies. With this combination of popularity - people mean profits after all - and a lack of supervision, it will come as no surprise that the companies have remained quiet about the content generated and viewed on their platforms.
Signs that this situation was to be addressed were first seen back in July, when the Ministry of Public Security launched an offensive against internet live shows that featured inappropriate content. Directives followed that aimed to better supervise website operators and ensure accounts that flouted the rules were deleted.
Since July, the Ministry of Culture has shut down and banned, known as blacklisting in China, 26 online live broadcast websites and punished more than 16,000 violators.
To further regulate online live streaming, the Cyberspace Administration of China (CAC) published a regulation that ordered providers and users to obtain permission to operate.
According to the regulation, which will take effect on Dec 1, service providers were urged to censor content before releasing it and instructed to establish a system that would allow them to block improper live streams immediately.
Users who break the rules should be blacklisted by service providers and be prohibited from registering with the site again, the regulation underscored.
In response to the regulation, several major live streaming websites, including huajiao.com, douyu.com and yixia.com, agreed to purge offensive content from their platforms, and help build a cleaner, safer online environment for their users.
Zhu Wei, vice director of the research center of media law with the China University of Political Science and Law, said that in the past many sites were concerned that the misbehaving owners of popular accounts would just move to other websites - those who are less ruthless with content producers - if the sites find fault with them, so they chose to turn a blind eye to their improper behavior in live shows.
"But under the new blacklisting system, violators will be banned from all service platforms and be reported to the cyberspace administration," Zhu said.
Zhu Huaxin, an official with people.cn, the English website of the People's Daily, said bullet screens, a barrage of comments by users that floods screens in real-time during a live show, should also be censored so as to prevent inappropriate content from influencing the young.
"The regulation will help stop vulgar content and improve the online environment," Zhu added.