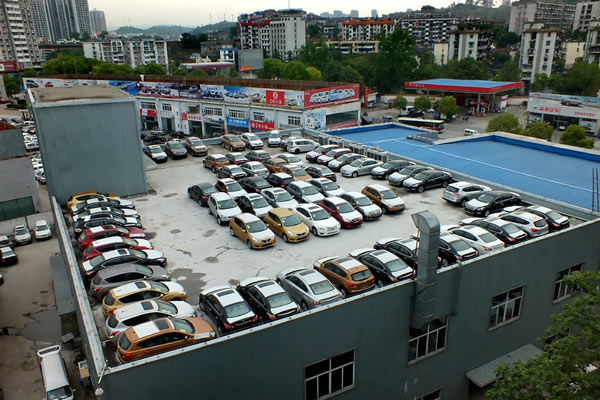 Photo taken on May 4 shows cars illegally parked on the roof of an auto 4s shop building in Yichang, Central China's Hubei province. [Photo/Asianewsphoto]
An applicable technology solution is about to hit the market as the nation's rapidly increased number of drivers gets a thirst for an upgrade of parking lot capabilities.
Narrow Band Internet of Things, or NB-IoT, is a Low Power Wide Area (LPWA) technology that enables the connections between IoT devices generate faster speed and wider range than the existing Blue Tooth and Wi-Fi approaches while consume lower power and cost in the same time.
Shen Zhou, engineer at the IoT business support center of China Unicom Shanghai Branch told China Daily the "NB-IoT"- driven smart parking solution would reduce the cost of the establishment and management of infrastructures and trunk gateways (TGs), which were originally used as data connectors to bridge information between end user terminal servers and upper servers.
Shen said the traditional TGs were only able to manage a maximum of 10 end user parking terminals while the volume could be significantly enhanced thanks to the chipsets that embedded beneath the surface at the parking areas.
He also expressed his optimism about the future implementation of NB-IoT to upgrade Shanghai's public parking lot services. "Following the improvement and utilization of NB-IoT, more public parking facilities are expected to be seen with responsent chipset embedded into ground," Shen said.
In addition, some spare enterprises-own or private parking lots of individuals will also be revitalized to participate the network and enjoy profit sharing from the business.
Statistics from local media noted that there are 15 NB-IoT base stations have been jointly built by Huawei and China Unicom at the Shanghai International Tourism and Resorts Zone, providing 334 parking booths that equipped with NB-IoT chipset and accessional vehicle detectors, aims at resolving tourists' difficulties in finding parking spaces and relieve traffic pressure.
By connecting the data between individual vehicles and China Unicom's smart parking server on the cloud, end users are able to search for, reserve, navigate and even pay for, available parking spaces through an all-in-one app, which can be downloaded to a smartphone.
Zhong Bo, senior developer of Ericsson's R&D North East Asia said that the technology allows telecom operators to play a more significant role in the IoT ecosystem and explore more growth areas, by partnering with device manufacturers and industrial users, and leveraging existing network infrastructure.
The Swedish-based company has been partnered with world's major telecom operators to provide NB-IoT infrastructure, and it demonstrated world's first standard NB-IoT connection application at the Mobile World Congress Asia 2016 in July in Shanghai.
"The NB-IoT technology can simplify the deployment of the smart parking solution, and can easily consolidate information of several different garages/parking lots into a single platform," said Zhong. "This can significantly facilitate end-users' parking process, and make the management and utilization of the parking area much more efficient."
Zhong said there is no technology obstacle for the development of NB-IoT while it still takes some time for the modem manufacturers to produce mature standardized chipset.