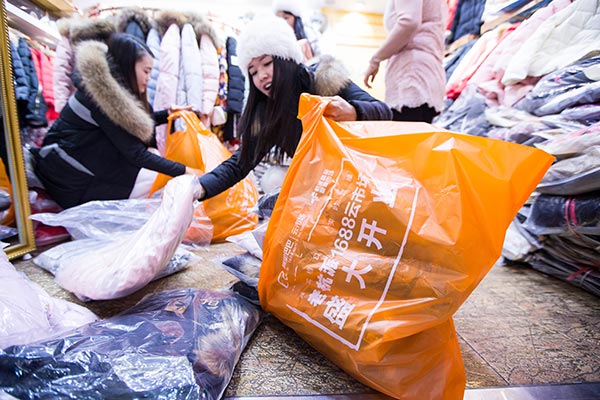 Taobao shop owners are busy packing clothes for their online customers from across the world.[Provided to China Daily]
Alibaba Group Holding Ltd said it will step up efforts to compete for more market share overseas, in rural areas and first-tier cities as the e-commerce giant singled out its top priorities for growth.
Zhang Yong, chief executive officer of Alibaba said in an internal meeting that was made public on Wednesday that the three areas will be the company's key "battlefields" for e-commerce in the year 2016.
Zhang projected that going global and going rural will be one of the key trends in China's e-commerce competition. Apart from that, he said there will be more cooperation between online to offline retailers in 2016.
He said Alibaba's Tmall and Taobao have established their leading positions in e-commerce in the trade of physical commodities but there is huge potential to tap in e-commerce in providing shoppers with digital goods and services.