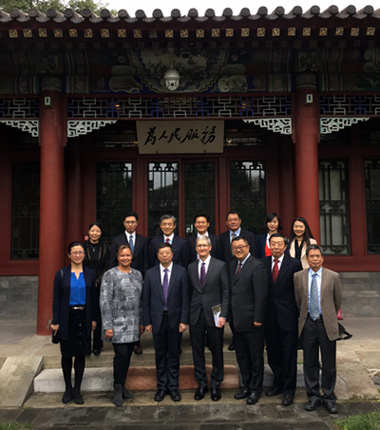 Tim Cook(middle), chief executive officer of Apple Inc,poses for a group photo on October 22, 2015 with representatives from Tsinghua University in Beijing.[Photo/news.tsinghua.edu.cn]
Apple CEO Tim Cook visited China's Tsinghua University, Thursday, and signed separate agreements with the School of Public Policy & Management and the Data Science Research Institute to establish further cooperation on applying innovative solutions to solve environmental issues and social challenges.
According to news.tsinghua.edu.cn, the two projects, named "China green innovation summer camp" and "2016 national undergraduates' smart device apps innovation competition", will be operated by the three bodies under the terms of the agreements.
The smart device apps competition invites developers from 30 universities to create new smartphone applications to help to solve the challenges that China faces in the fields of environmental protection, new energy development, urbanization and Big Data.
The winner of the competition will be invited to attend the 27th Apple's Worldwide Developers Conference (2016 WWDC) held next year in San Francisco, United States.
The summer camp aims at providing opportunities to 50 students to have environmental protection management, public management seminars, internships for local governments, and internships at environmental protection enterprises.
In 2013, Tim Cook joined the advisory board at Tsinghua's School of Economics and Management(SEM).
Accroding to previous report by China Daily, Cook is making his second visit to China in less than six months since Wednesday.
After paying tribute to Beijing's historic landmarks, exchanging pleasantries with Chinese developers and announcing clean-energy programs, poping up at the Apple Store located in Wang Fujing, the head of the US-based tech giant is showing the country how much he needs long-term business growth in the world's largest smartphone market.