As a follow-up to last year's Galaxy Tab S, South Korean tech giant Samsung Electronics Co Ltd unveiled Galaxy Tab S2 on Monday in Beijing, one month after its international launch.
According to a statement from Samsung, Galaxy Tab S2 is stylishly designed with the thinnest and lightest metal frame on the market, complete with powerful performance features that promise enhanced usability, productivity and multitasking.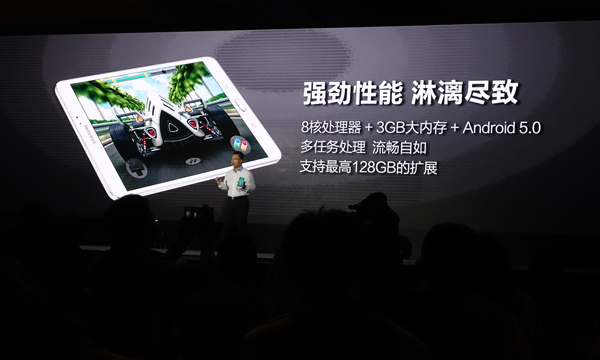 Zheng Qi, senior manager of Samsung Electronics Co Ltd's Greater China region, introduces Samsung's new tablet during the press conference on August 24, 2015 held in Beijing. [Liu Zheng/chinadaily.com.cn]
"We believe the Galaxy Tab S2 continues to lead the industry in development and provides more portable, more fruitful, and smoother experiences for its users," said Wang Tong, president of Samsung mobile communications department of Greater China.
During the international launch event in Hong Kong on July 28, associate director of IT Business, Samsung Electronics HK Co Ltd Irene Lam said, "The Galaxy Tab S2 is not only the slimmest and lightest tablet on the market, but it also gives users quick, easy access to a wealth of superior viewability and productivity."
According to Samsung, despite using a metal frame in their construction, both Galaxy Tab S2 models are 5.6mm thick, and weigh just 389g for the 9.7 inch version and 265g for the 8 inch version. This is believed to be thinner and lighter than the latest Apple tablets -- iPad Air 2 and iPad mini 3.
Comparing with Apple's 1.5 GHz triple-core A8X processor and 2GB RAM that's built into the iPad Air 2, the Galaxy Tab S2 is powered with Samsung's Exynos 4533 octa-core application processor and 3GB RAM.
The two models (both 8 inch and 9.7 versions) are geared and equipped with Super AMOLED screens at a resolution of 2048x1536, they both run Android 5.0 Lollipop, and feature 32GB or 64GB of internal memory, which can be expanded via micro SD.
In addition, the Galaxy Tab S2 adopts a display ratio of 4:3 to create a visual experience that resembles traditional print media.
Galaxy Tab S2 LTE version will support 2G, 3G, and 4G service for both China Mobile and China Unicom users.
The original Galaxy Tab S released in 2014 measured 10.5 inch.
Prices have not been announced yet but domestic media reported that the number will reach about 4,000 yuan ($625).  
Just last week Samsung unveiled a new Galaxy Note phablet and a larger version of its curved-screen S6 edge smartphone at the Samsung Galaxy Unpacked 2015 event in New York, marking a fresh bid by the South Korean tech giant to revive momentum in its handset business.
According to China Daily, weaker demand for smartphones in China has dragged global shipments. Samsung's second quarter smartphone revenue fell by more than seven percent year-on-year. Its profit dropped by 37.6 percent from a year ago.
Although Samsung remains the leader in the worldwide smartphone market, it was the only vendor among the top five to see its shipment volumes decline year-on-year in the second quarter, according to research firm International Data Corporation (IDC).
"The new Galaxy S6 and S6 Edge arrived with mixed results, as a limited supply of the Edge models did not keep pace with the demand for the new (curved screen) handset," said the IDC.