Given their high specs and comparatively low prices, Chinese-made handsets have flooded western markets as the mobile Internet era continues its rapid growth.
After fans' 461-day wait, Chinese smartphone start-up Shenzhen OnePlus Technology Co Ltd revealed its second generation flagship -- OnePlus 2 -- Tuesday in Beijing.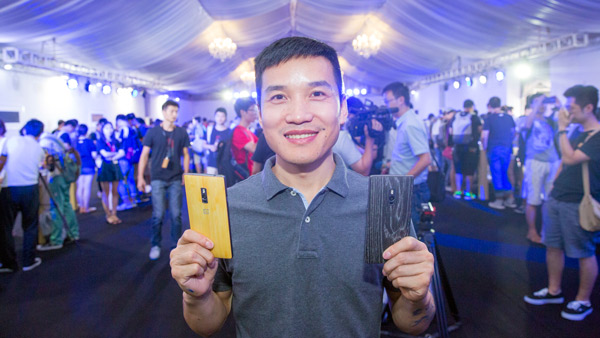 Pete Lau, founder and CEO of OnePlus, displays two OnePlus 2 on July 28, 2015 during the launch ceremony of OnePlus 2 held in Beijing. [Photo provided to chinadaily.com.cn]
Being an unusual Chinese phone maker among numerous competitors, overseas expansion of OnePlus is far beyond its domestic business with 60 percent sales last year coming from markets such as the United States, Europe and India.
Carl Pei, co-founder of the company, who directs the global division, once said that among OnePlus's global staff, a third of employees are from Asia, a third from Europe and a third from the US."We don't really think of ourselves as a Chinese start-up," Pei said.
The company was once called a "unicorn company" in the industry by tech reviewers at the New York Times.
According to the company, Indian markets have seen rapid growth and become its largest overseas market since the second half of last year.
Most Indian users are white-collars or technology firms' employees, and priced 2,300 yuan ($371), monthly shipment volume of the first generation OnePlus One increased from 40,000 to 100,000 units, a quarter of the mid- and high-end smartphones sold for more than 2,000 yuan.
OnePlus will be offering five alternative back covers -- black sandstone, black apricot, bamboo, Kevlar and rosewood.
Powered with US semiconductor manufacturer Qualcomm's Snapdragon 810, a chip consisting of a 1.8GHz octa-core 64-bit processor and an Adreno 430 GPU, the new phone introduces a technology called H-Cube, which can improve the chip's well-discussed overheating flaw, according to Pete Lau, founder and CEO of OnePlus.
With 4GB of LPDDR4 RAM, 16GB or 64GB of internal storage, a 3,300 mAh fixed battery and the company's first independently designed mobile operating system named Hydrogen OS, or H₂OS, based on Android's default Lollipop interface, the phone provides the same 5.5-inch LCD with a 1080p resolution as the previous model, rather than a sharper 2K display.
Lau said he's not into the resolution war because 1080p is sufficient for most people; instead, he has focused on improving the screen's clarity and brightness because he found that's how the iPhone 6 Plus won over so many consumers.
The fingerprint reader is faster than that of the iPhone -- less than 0.5 second -- and can hold up to five different profiles, according to Lau.
One addition is a special "alert slider" on the phone's left spine. Unlike the usual mute switch built in to the iPhone, this one toggles between three different notification profiles: "None," which disables all notifications, "Priority," which only enables notifications from priority contacts and "All," which enables the lot.
By comparison with the price war that has dominated domestic competitors, OnePlus seldom uses price-cutting strategy before the launch of a new generation phone.
The new OnePlus 2 will be sold simultaneously from 10 am on August 4 on oneplus.cn, JD.com and Tmall.com. Lau predicted the sales target will be 3 million units.
The company is in financing talk with venture capital companies from Silicon Valley to expand and absorb talents. The entire sales volume will be doubled, to reach to 10 million units, people familiar with the matter told chinadaily.com.cn.
As of today, the shipment of OnePlus One has surpassed 1.5 million units and covers 36 countries and regions around the world.