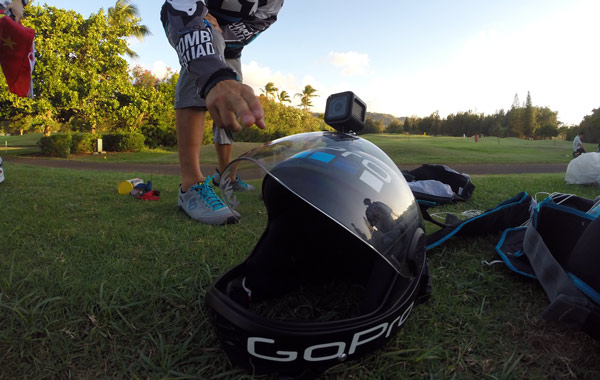 GoPro HERO4 Session is displayed on a helmet. [Liu Zheng/chinadaily.com.cn]
US sports camera maker GoPro Inc launched its HERO4 Session in China on Monday and nominated Chinese rock climber Liu Yongbang as the brand's ambassador.
Priced 2,998 yuan ($483), the gear, described as the smallest, lightest, most convenient GoPro product yet by the company, is available online and at authorized stores nationwide.
"We are thrilled to team up with Liu for the launch of the HERO Session in China," said Tor Petersen, head of sales and marketing for GoPro's Asian and Pacific markets.
"This is the first of a series of local pieces of Chinese content we will be sharing over the coming months".
The company has also launched a breathtaking video of Liu, aka 'Abond', and his girlfriend, Xiao Ting, on a 5.14b rock climb in Yangshuo, Guilin, and providing a tutorial of how to capture stunning images using GoPro's most versatile life-capture solution yet.
Liu is a rock climber who holds several records in China and globally, and who is a big fan of GoPro products using them to capture his great feats on both rock and wall.
On July 29, Liu will 'take over' GoPro's Sina Weibo account, releasing never before seen content from his worldwide escapades.
HERO4 Session captures 1080p 60fps, 720p 100fps and 1440p 30fps videos together with eight megapixel photos in Single, Burst and Time Lapse modes.
It features many of the same innovative features found in GoPro's best-selling HERO4 Black and Silver cameras, including SuperView, Protune and Auto Low Light recording modes.
The camera is 50 percent smaller and 40 percent lighter than the previous HERO4 Black and Silver version and is waterproof.
The company announced on June 6 that it would launch the new product in the US market. China Daily, as one of the selective media outlets, was invited to join a press tour to Hawaii to experience the HERO4 Session through stand-up paddle boarding, horse riding, Segway driving and bicycle riding.
Operating HERO4 Session is very simple, even for beginners.
A short press of the shutter button powers the camera on and video recording begins automatically. A long press powers the camera on and triggers Time Lapse photo capture.
Press the shutter button again to save the video or photo content and power the camera off.
This simple one button design drastically improves the speed and convenience of capturing live moments as they happen.