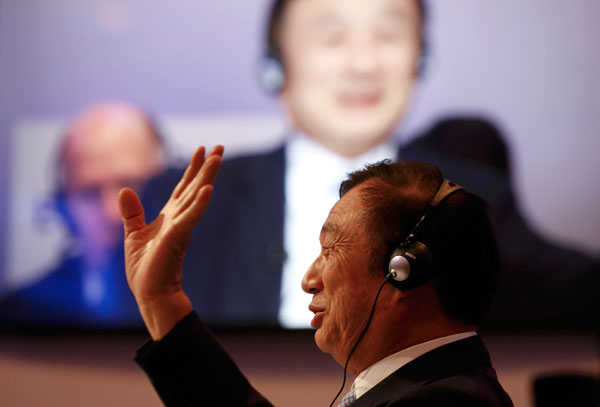 Ren Zhengfei, founder and Chief Executive Officer of Huawei Technologies gestures during the An Insight, An Idea event in the Swiss mountain resort of Davos, Jan 22, 2015. [Photo/Agencies]
Ren Zhengfei, founder and CEO of the Huawei Group, dismissed an air of mystery surrounding him by saying at the Davos Forum on Thursday that he only owns about 1.4 percent stake of the technology giant.
Ren said he expects Huawei to achieve more than $56 billion in revenue this year, despite the slow down in the Chinese economy.
The firm saw a 20 percent increase in revenue to at least 287 billion yuan last year, aided by its sales of 75 million smartphones, Huawei's preliminary financial statement showed.
The Chinese government has never issued orders to Huawei to spy on its American counterparts, said Ren, readdressing doubts clouding the company. Despite its domestic success, the company's attempts to go global have been challenging.
He added that Huawei faces a complicated world and hopes to face the future together with others while not becoming competitors.
"I don't maintain a low profile on purpose," said Ren, adding that he knows nothing about technology or finance and often gets criticized at home.
Founded in 1987 in Shenzhen, Huawei has positioned itself as an employee-owned corporation. In 2012 it overtook Ericsson as the largest telecoms equipment maker in the world.