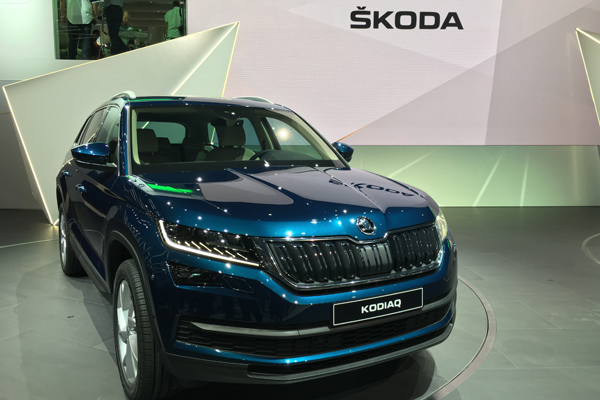 Skoda shows its SUV Kodiaq at the Paris auto show on Sept 29, 2016. [Photo by Li Fusheng/chinadaily.com.cn]
Czech automaker Skoda Auto has become a shareholder of SAIC Volkswagen which has been localizing its cars since 2007, said its CEO Bernhard Maier.
Maier told this to a small group of reporters on Sept 29 in Paris, but refused to offer details, including the percentage of its equity it now holds, saying the parties have signed a deal to not reveal the figures.
A source close to the matter told China Daily that Skoda's intention to hold the equity materialized around one month after it signed a memorandum of understanding with existing shareholders SAIC Motor and Volkswagen AG in late March.
Analysts believe Skoda's equity was from Volkswagen, who bought Skoda in 1991, because foreign automakers are not allowed to have more than 50 percent of shares in a joint venture.
The change has been reflected in the trademark of Skoda cars produced in China.
Starting in July, the words they bear on the rear have changed from "Shanghai Volkswagen" into "SAIC Skoda". According to Chinese law, the appearance of "Skoda" would be impossible if it had not become a shareholder of the joint venture.
Maier said Skoda's shareholding status is paving the way for its independent operation in China. The brand has suffered from an obscure image in the country; with many believing the brand was merely the name of a model from SAIC Volkswagen.
Analysts said the move is helpful for Skoda's sales performance in China, which is its largest single market worldwide.
Maier said Skoda is expected to sell 300,000 units this year in China, and it has set a goal of doubling the figures by 2020.
Besides equity change, SAIC Volkswagen is planning to invest 2 billion euros in five years to localize Skoda cars.
It now has six models available in the market, and the latest edition will be a seven-seat SUV called Kodiaq, which is expected to make its Chinese premiere in November and hit the market in April.
The model will be the spearhead of Skoda's SUV offense, said Maier, adding that it will be followed by updated Yeti, an SUV already sold in China, and a crossover.
SUVs are now the most popular cars in China. Statistics from the China Passenger Car Association show that China sold 3.85 million SUVs in the first half of the year, surging 44 percent year-on-year.