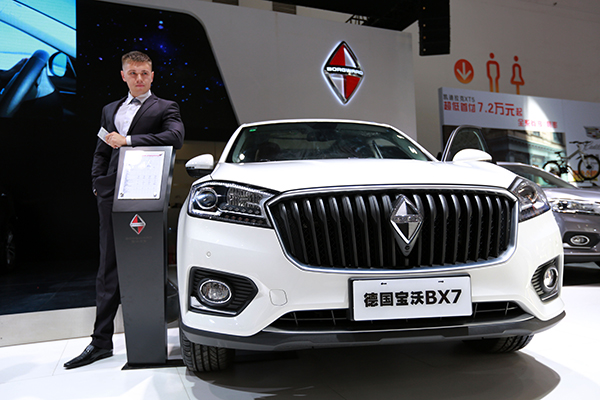 A Borgward BX7 is displayed at an auto show in Haikou, Hainan province, on Sept 10. [Photo/China Daily]
More domestic car brands have demonstrated their eagerness for recognition as premium, although none of the Chinese peer group have yet revealed a strategy that will lead them to the top. Although there are previous failures that serve as lessons from which the industry can learn, some of them might still not find the keys to customers' hearts.
Geely Automobile Holdings Ltd expressed its ambition to build premium lineups on its first universal platform. Meanwhile, Beijing-based Beiqi Foton Motor Co Ltd is offering an SUV carrying the originally Germany Borgward badge at a price of up to 300,000 yuan ($44,979).
When companies talk about "premium", they usually mean a "premium pricing strategy", setting the price of a product higher than similar products, as an attempt to seek maximum profit in a segment where customers are willing to pay extra.
Theoretically, a customer would settle the bill when he or she perceived the difference between the product and other similar ones, when there are limited alternatives, or when production costs could not be lowered.
But Geely and Borgward, which are looking to climb up the premium ladder, need a halo effect to persuade customers during their decision-making process. In the automotive field, customers' feelings and thoughts reverse primarily due to trend-setting designs and cutting-edge technologies.
A well-known example of this comes from Volkswagen's China business. The company shifted its mass models well away from its peers after boasting its unique "T&D" powertrain, which consists of a turbocharged engine and direct shift gearbox.
Chinese customers perceived the difference, as T&D doubled the vehicle's fuel economy and so halved its petrol consumption. There is no comparable function in the market, at a time when the gasoline price has hit 8 yuan a liter. So, customers are willing to pay a higher amount for a compact Golf or Sagitar, as high as some other international brands' mid-size models.
There were of course other factors that helped Volkswagen move upward, as these models and the DSG feature stepped down from the altar. But can we name one or two factors helping Geely go premium? Does Geely possess any superior difference from other premium rivals to convince customers to pay much more?
Geely's jointly developed Compact Modular Architecture platform and the input from a Swedish design lead team are impressive, thanks to its connection with Volvo Cars. Looking back, Geely Automobile has successfully become far more premium than it used to be. But, when we look around in the overall premium segment, at least in the eyes of the Volkswagen fans, Geely today remains in need of something new to match Volkswagen's T&D offering.
As for the revived Borgward brand, it is already a success for Beiqi Foton, a business vehicle maker who might not have expected much. The automaker could apply a strategy to enter the passenger car market, to become as high profile as possible. After it has attracted enough potential customers that understand the brand, a later downgrade could be possible to achieve greater volumes.
Also, Borgward could learn from the Sino-Israeli joint venture Qoros Automotive Co Ltd, which cut its suggested retail prices by as much as 50,000 yuan last year after claiming to be premium since it was established in 2007.