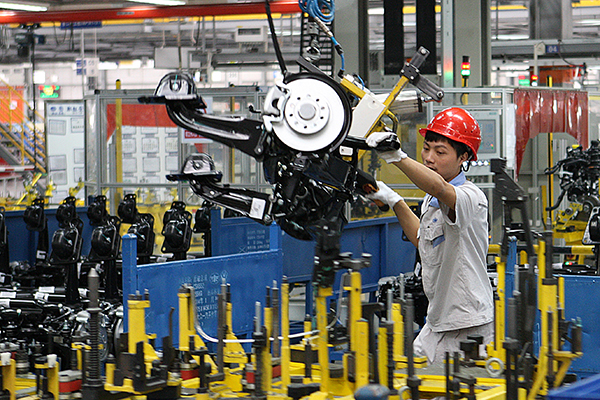 A worker at a production line in a FAW-Volkswagen factory. [Asianewsphoto by Wang Zhuangfei]
FAW-Volkswagen is ready to roll out its first batch of new energy models and sport utility vehicles to catch up with the market tendency and further boost profitability when planning the 2025 strategy for the new phase.
The Sino-German joint venture is eyeing the market's needs and surveying its own direction for new energy vehicles, according to Zhang Pijie, general manager of FAW-Volkswagen Automotive Co Ltd, at a news conference on Sept 7 before the company's 25-year anniversary in Changchun, Jilin province.
"FAW-Volkswagen will find an innovative approach to fulfill the customers' real needs in the future, through constant innovation and swift evolution.
"Now the customers have more expectations for meeting their individual demands, which are propelling the technology breakthroughs. We have the innovative technology and techniques to fulfill them."
The auto maker is progressively modifying its product line-ups, and it will enter the most popular SUV segment in 2017 with three products, and a total of 11 new energy vehicles.
Sources familiar with the matter told China Daily that Volkswagen's Magoton Plug-in Hybrid and fully electric Golf might launch on the Chinese market in 2018.
The Changchun-headquartered carmaker has sold nearly 1.2 million units in the first eight months of this year, 10.8 percent more than that of the same period last year. Its accumulated production totaled 12.5 million units in the past 25 years.
The market demands have fueled significant growth in SUV sales in the past several years, with one of the best sellers in China being the Volkswagen Tiguan, produced by SAIC Volkswagen and imported by Volkswagen Import.
"FAW-Volkswagen has been focusing on localizing and tailoring models for Chinese customers," Zheng Yun, executive director of automotive practice with Roland Berger Strategy Consultants, said. "For example, stretching the wheelbase is one of the options. It is possible for FAW-Volkswagen to tailor an SUV model specifically for the Chinese market."
He was bullish about the mid-size SUV segment, as mid-size has been outperforming the overall SUV market and bringing higher profits and larger volumes to manufacturers.
"However, FAW-Volkswagen still needs to respect Volkswagen China's will, as the joint venture may not have a strong say in the final decision on model selections," Zheng said.
"A strong product does not necessarily turn into market popularity. There's not a single section in the value chain that can be taken for granted."
He believed FAW-Volkswagen needs to strengthen its dealership operational standards and improve its management methods to provide needed support to dealers.
Many dealer groups run 4S showrooms for both FAW-Volkswagen and SAIC VW, but the SAIC VW one usually outpaces the FAW-Volkswagen one in sales volume and customer services.
Zheng pointed out that FAW-Volkswagen's brand has a lot to learn from the Audi brand.
"Besides the competitive product pricing, the Audi Sales Division benefited from its mature management mechanism, so as to maintain its position as a market leader for years, despite challenges from BMW Brilliance and BAIC Benz."
Zhang said: "Audi, FAW-Volkswagen's luxury division, has topped the customer satisfaction rankings for eight consecutive years."
"We have been constantly pursuing high customer satisfaction and it is our inexhaustible power."
The company management board members expressed their appreciation to their 12.5 million customers "for their trust, selection and support".