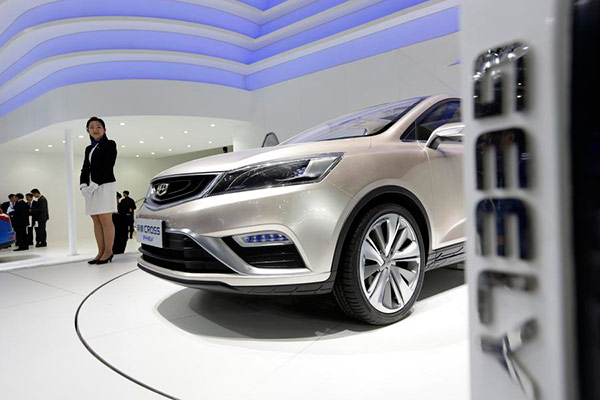 A Geely EC Cross concept car is displayed at Auto China 2014 in Beijing April 20, 2014.[Photo/Agencies]
HANGZHOU - China's automaker Geely has plans for its own app to join the scramble for China's ride-on-demand services.
The Hangzhou-based auto firm, which owns formerly Swedish carmaker Volvo, has set up a new firm to develop a ride-hailing app that is currently on a trial run in the eastern Chinese city Ningbo, which will soon expand to include Shanghai, Hangzhou and Kunming.
Unlike competitors Didi and Uber, which use private cars, Geely is planning a fleet of its own vehicles. Several similar services are building their own fleets to swerve around regulatory uncertainties in the use of private cars.
Geely is aiming for the high-end of the ride-on-demand market in first and second tier cities next year, seeing the service as a channel for potential consumers to get to know its vehicles. The company is the country's eighth largest domestic carmaker in terms of sales in the first ten month this year, according to China Association of Automobile Manufacturers.
The automaker also plans to increase its car fleet, consisting only of Geely sedans and Volvos, to 150,000 vehicles, nearly one third of its annual production. The fleet will have 20,000 electric vehicles.