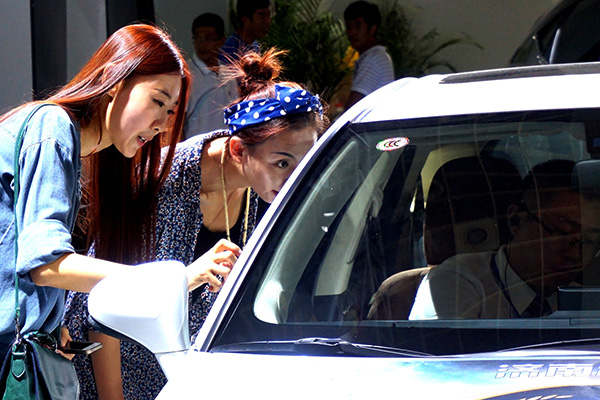 Two visitors look at vehicles at an auto show in Jinan. Sales of passenger cars in China grew by nearly 3.3 percent last month-to 1.75 million units-compared to the previous year. [Photo/China Daily]
BEIJING - China's passenger vehicle (PV) sales are likely to improve in the fourth quarter of 2015 on the back of favorable government policies, Fitch Ratings said in a monthly report Thursday.
The rating agency made the prediction after China's auto market in September posted its first positive year-on-year sales growth since April this year, thanks to seasonally stronger demand and promotions than in the first half of the year.
According to the China Association of Automobile Manufacturers, September wholesale vehicle deliveries rose 2.1 percent to two million units, with PV sales rebounding after three consecutive months of declines.
Fitch's optimistic forecast for China's auto market is largely based on a recent cut in vehicle purchase tax from 10 percent to 5 percent for low-emission PVs, effective from Oct 1 to Dec 31, 2016.
The government also announced supportive measures to boost progress in core technologies and key components for new energy vehicles.