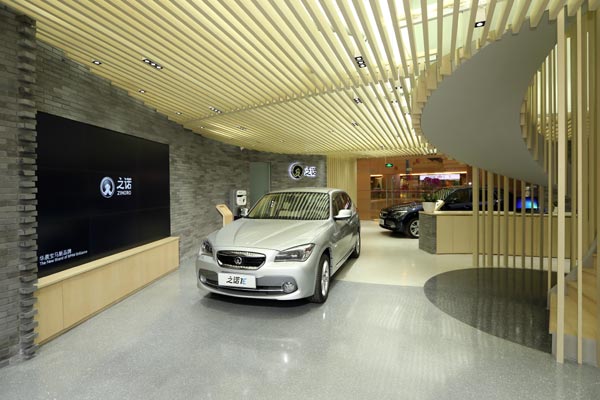 A ZINORO showroom is now open to the public in Shanghai's downtown Nanjing West Road. [Photo/China Daily]
BMW Brilliance introduced its ZINORO brand in Shanghai on Jan 14, making it easier for e-mobility aficionados in the metropolis to experience premium electric cars.
A total of 30 1Es are now available for rent at its partner, Shanghai Automotive City, while a showroom has been opened to public on the city's downtown Nanjing West Road.
"As promised, we opened the brand showroom in Shanghai in the Year of the Horse, which is another milestone in the history of this young brand," said BMW Brilliance President and CEO Olaf Kastner at the opening ceremony.
Launched in November 2013, 1E is the first product of ZINORO brand, and it is China's first new-energy vehicle from a premium joint venture. Also ZINORO is the first to make such vehicles available to customers through rental services.
Made in China and for China, the car can run up to 150 km on a full charge that takes about 7.5 hours. It is built at the company's Tiexi plant in Shenyang, where BMW Brilliance now produces the BMW 3 Series sedans and X1 SUVs.
The price is set at 400 yuan ($65.5) for daily rental and 7,400 yuan per month for rental of three years. It covers the total costs of insurance, maintenance, repair, roadside assistance, loaner car services and license plates registration.
Oliver Liang, head of ZINORO brand management, said the showroom will be a promotion center with various events to spread knowledge about alternative energy and the concept of green mobility.
He said the brand had started a ZINORO Club to attract people from different fields to talk about and promote green lifestyles.
The Shanghai showroom is the brand's second nationwide. The first was unveiled in early 2014 in Beijing and good results followed, according to the joint venture.
In addition to private customers, BMW Brilliance delivered 20 ZINORO 1E electric cars to the Beijing Service Bureau for Diplomatic Missions in early November, making it the country's first to provide new-energy vehicles for public use in foreign affairs.
It also provided 1E cars to the capital's local football club Guo'an. The club, which has more than 1 million fans, said it would use the vehicles in its daily operations to promote green commuting in everyday life among its supporters.
"We have full confidence we will achieve the same or even more success in the city of Shanghai," said Kastner.