BMW sees its millionth car roll off the assembly line
By Liu Ce(China Daily)
Updated: 2015-01-16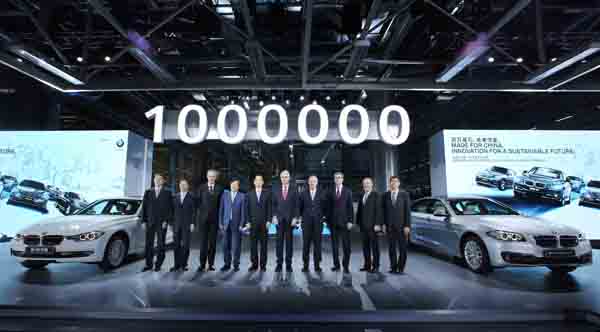 Heads of the BMW celebrate the completion of its 1-millionth car in China, Shenyang city, Jan 8. [Photo provided to China Daily]
It has been 12 years since BMW began car production at its Shenyang, Liaoning province plant and it has reached a milestone, as the 1-millionth car rolled off the Tiexi plant's assembly line, on Jan 8.
The particular vehicle, a BMW 3 Series Sedan, is produced exclusively for the Chinese market since 2012, and in commenting on this momentous event, Harald Krüger, a board member of BMW responsible for production, said, from his Munich office, "For more than 10 years, our joint venture has been very successful in producing BMWs in China. The Shenyang production site with its plants at Tiexi and Dadong and adjacent engine plant is a vital part of our global production network. We are striving for further balanced and profitable growth in three global regions -- Europe, America and Asia. This is why in China as well as in other countries, we focus on a principle of 'production following the market'."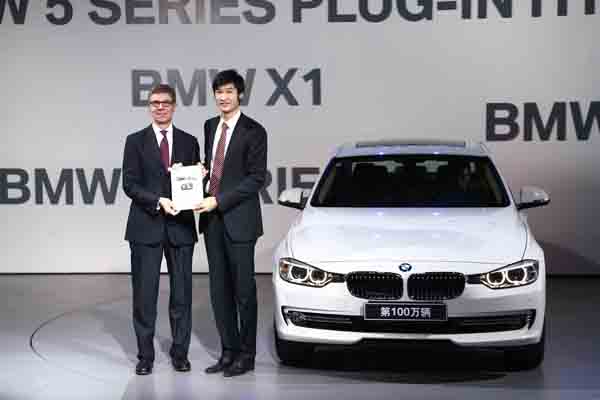 Olaf Kastner, CEO of BMW, hands the key of his company's 1-millionth car in China to Lei Sheng, its customer and also the 2012 London Olympic champion of male foil, Jan 8. [Photo provided to China Daily]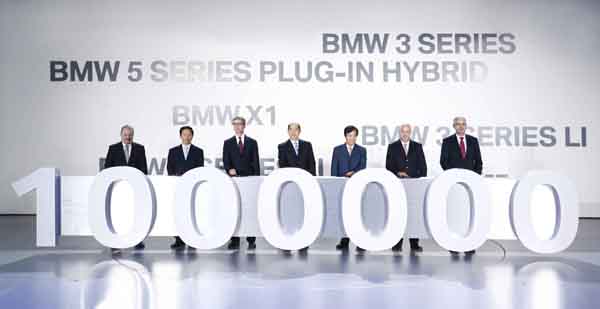 The Shenyang plant, which has been building BMWs since 2004, is a joint venture with Brilliance China Automotive Holdings that caters solely to the Chinese market and consists of the Dadong plant, for the BMW 5 Series long version, and in the newer Tiexi plant which opened in 2012, for the BMW X1, BMW 3 Series long version, BMW 3 Series Sedan and ZINORO cars.And it has set new standards in sustainability and resource efficiency.
The two plants have a combined output of 300,000 units annually, which is expected to increase to 400,000 over the next two years. And, over the next few years, BMW plans to expand its portfolio of locally produced vehicle models from three to six.
Another major part of the Shenyang site is the engine plant that provides the drive systems for the two vehicle factories. A second, larger engine plant with a foundry is currently under construction and is scheduled for operations in 2016.
The joint venture BMW Brilliance Automotive was founded in 2003 to produce and distribute BMWs in China. Over the past five years, BMW has put a total of 2-billion euros into the Chinese production site, which employs a workforce of more than 14,000. In 2014, the BMW Group and Brilliance China Automotive Holdings extended their contract for the Chinese joint venture, four years before it was set to expire, providing a good foundation for the successful cooperation and making it even stronger. The new agreement runs from 2018 to 2028.