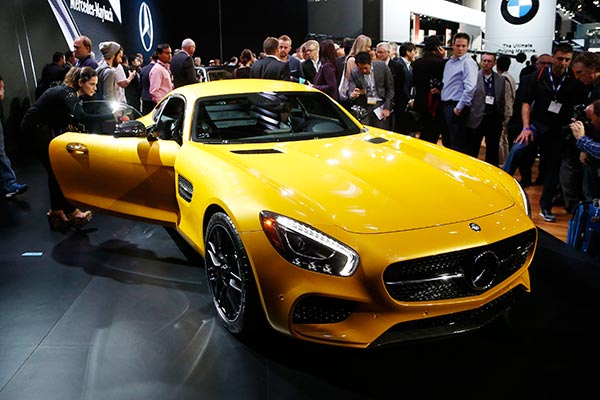 The Mercedes AMG GT S is shown during the model's world debut at the Los Angeles Auto Show in Los Angeles, California Nov 19, 2014. [Photo / Agencies]
The soaring number of automobiles on China's roads has been accompanied by the growing need for greater awareness of children's road safety.
This year, local governments in Shanghai, Shenzhen and Shandong province introduced child restraint laws to further protect children's safety as passengers in cars.
But in addition to such government efforts, companies such as Mercedes-Benz are also taking actions to fulfill their corporate social responsibilities in this area, and the German premium automaker established its third Road Safety Star Base of China in Guangzhou on Friday. Its first Road Safety Star Base was established in Beijing in 2012, followed by one in Shanghai last year.
The company emphasized that they have always been involved with efforts to improve children's road safety, and the parent company, Daimler AG, launched the first and the world's largest road safety initiative in 2001. The program was then introduced to China in 2012 in the form of its In-School Projects and Star Bases that aim to teach children aged 6-10 years old how to stay safe in various road situations.
Li Hongpeng, senior executive vice-president, Beijing Mercedes-Benz Sales Service Co Ltd, as well as chairman of the Mercedes-Benz Star Fund Management Committee, said, "Holding the belief of 'Nurturing the best for all our tomorrows,' we are proactively extending road safety education to more children across China and trying to keep this issue in the foreground of public attention. The new Star Base in Guangzhou shows our unwavering commitment to this."
Li said a Chengdu Star Base is next in the pipeline. The In-School Projects will also be expanded to more than 200 schools in cities by 2015, as well as 400 Hope Schools in rural areas. Mercedes-Benz has been working with a local partner, Junior Achievement, on the In-School Projects, which educate students about road safety tips through the school curriculum in China.
With its extensive network of dealerships, the company is also targeting introducing road safety programs to communities as a long-term initiative.
Mercedes-Benz stressed the importance of teaming up with dealers as their nationwide networks are able to expand the good initiatives rapidly to hundreds of cities in China.
In addition to its Children Road Safety Program, Mercedes-Benz has also launched an innovative charity model, which offers the public diversified channels to help others both online and offline.
For instance, people can participate in the online charity bazaar, interactive games and offline volunteer activities. All these efforts will be translated by Mercedes-Benz into actual actions through the Star Fund to help the people in need.
The company said the participations of both individuals and corporations are equally important in public good as more people are able to benefit from the collective efforts.
With the facilitation of new media, a broader participation in the public good is no longer a dream and the seeds of philanthropy are being widely sown.
To accompany this brand new charity model that truly allows people wider and easier access to participate in charitable activities and encourages them to engage in the sustainable development of Chinese society, Mercedes-Benz has also introduced its new corporate social responsibility ambassador, a cute cartoon panda.
The company said that it decided on a panda because the animal is distinctively Chinese and universally adored.
The panda has been with Mercedes-Benz since its first CSR project, and in the future, will also be its new CSR ambassador, sharing Mercedes-Benz's commitment to Chinese society, especially in the areas of environmental protection, social care, arts and sports, driving culture and education.