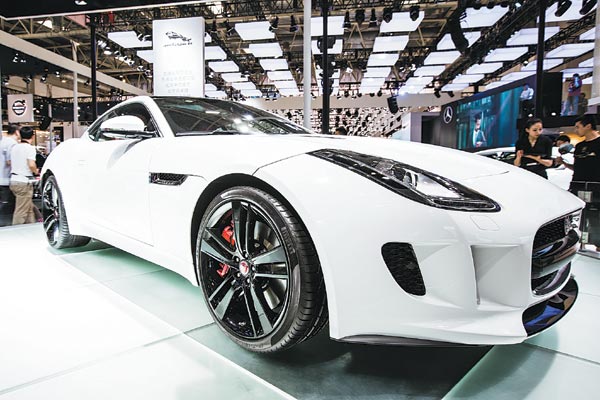 China is expected to surpass the US in luxury car sales by 2016, according to the latest industry study by PricewaterhouseCoopers. Photos provided to China Daily
Report: Global icons localize to be competitive in fierce market
Following a nearly five-fold increase in sales over the last decade, automakers are further ramping up efforts in the China market as premium brands continue to rise, according to a recent report by PricewaterhouseCoopers.
The multinational professional business advisory forecasts the Chinese luxury car market will have annual sales surpassing 3 million units by 2020.
In the last decade, the overall market has expanded from 4.3 million to 19.9 million vehicles purchased, a trend that continued despite the global downturn and other automotive markets in steep decline.
And the luxury segment even grew as the Chinese auto market expanded only marginally in 2011. That year, it had a startling 54.5 percent rise.
By the end of 2013, the segment was still enjoying double-digit growth to reach sales of 1.4 million units, second only to the United States. China is expected to surpass the US in luxury sales by 2016, said PwC.
The proportion of affluent consumers in China is growing rapidly, both in volume and age range. Younger first-time owners have increasing buying power that helps fuel the luxury segment, the company's research concluded.
"Foreign luxury brands seem to appeal to young buyers as they perceive them as safer, more technologically advanced and better quality," said Wilson Liu, head of PwC's China Automotive team.
"On the other hand, a trend toward vehicle downsizing amid more stringent emission standards is also reflected in the luxury segment," said Liu. "Entry-level models are increasingly available and appealing to younger, first-time buyers."
Luxury vehicles have a projected compound annual growth rate of 11.5 percent from 2013 to 2020, almost double that for standard, non-premium light vehicles, according the report.
It forecasts that the penetration rate for luxury vehicles will even surpass the 10 percent share seen in today's mature markets such as the US.